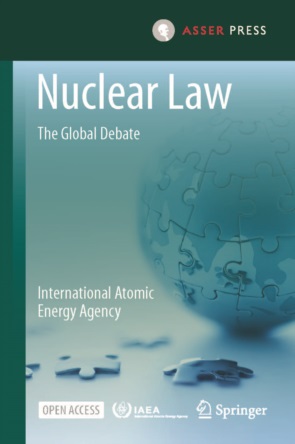 Nuclear Law - The Global Debate
January 2022
Order
Details
Published:

January 2022

Pages:

viii + 333 pp., 33 ill. (32 fc)

Publisher:

T.M.C. ASSER PRESS

Distributor:

Springer
This open access book traces the journey of nuclear law: its origins, how it has developed, where it is now, and where it is headed. As a discipline, this highly specialized body of law makes it possible for us to benefit from the life-saving applications of nuclear science and technology, including diagnosing cancer as well as avoiding and mitigating the effects of climate change. This book seeks to give readers a glimpse into the future of nuclear law, science and technology. It intends to provoke thought and discussion about how we can maximize the benefits and minimize the risks inherent in nuclear science and technology. This compilation of essays presents a global view in discipline as well as in geography. The book is aimed at representatives of governments—including regulators, policymakers and lawmakers—as well representatives of international organizations and the legal and insurance sectors. It will be of interest to all those keen to better understand the role of law in enabling the safe, secure, and peaceful use of nuclear technology around the world.
The contributions in this book are written by leading experts, including the IAEA's Director General, and discuss the four branches of nuclear law—safety, security, safeguards and nuclear liability—and the interaction of nuclear law with other fields of national and international law.
Specific to this book:
IAEA DG and leading experts discuss nuclear law- safety, security, safeguards, and liability.
Curated by the IAEA, the leading voice in nuclear law and depositary of the international instruments in nuclear law.
Focuses on current issues in the field and identifies potential areas for further development.
This Open Access publication is available via https://link.springer.com/book/10.1007/978-94-6265-495-2
Available for download