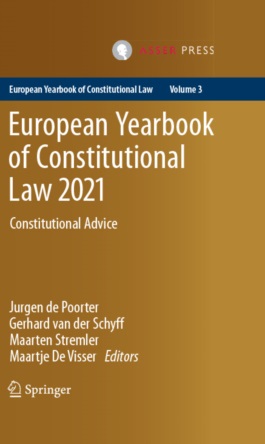 European Yearbook of Constitutional Law 2021 - Constitutional Advice

Series: European Yearbook of Constitutional Law
June 2022
Order
Details
Published:

June 2022

Pages:

xii + 276 pp.

Publisher:

T.M.C. ASSER PRESS

Distributor:

Springer
The European Yearbook of Constitutional Law (EYCL) is an annual publication devoted to the study of constitutional law. It aims to provide a forum for in-depth analysis and discussion of new developments in the field, both in Europe and beyond.
This third volume of the EYCL focuses on constitutional advice, an underexplored topic of legal scholarship today, and addresses this situation by looking beyond constitutional law's familiar focus on the classic separation of powers and the main legislative, executive and judicial bodies implied by this construct.
The attention is shifted to mapping and analysing the advisory bodies and functions grouped around and in support of the legislators, administrators and judges at the frontline of the constitutional edifice, which is accomplished through national, comparative and transnational perspectives on constitutional advice from Europe and beyond. Addressing the topic of constitutional advice is necessary to broaden and deepen not only our understanding of advice as a field in its own right, but also as a way of rendering a fuller account of contemporary constitutionalism. Also, the increasing political polarisation across many societies today underscores the need to study constitutional advice on topics of significance in an attempt to bridge divides and end gridlock.
This book will be of special interest to constitutional scholars and legal scholars more generally, as well as to political scientists. In addition, government officials, judges and policy-makers wishing to better understand the legal mechanisms and avenues when it comes to rendering or receiving advice in the contemporary constitutional context will find much of relevance.
Jurgen de Poorter is professor at Tilburg Law School, Department of Public Law and Governance. Gerhard van der Schyff is associate professor at Tilburg Law School, Department of Public Law and Governance. Maarten Stremler is assistant professor at Maastricht University, Faculty of Law, Department of Public Law. Maartje De Visser is associate professor at Yong Pung How School of Law, Singapore Management University, Singapore.
Specific to this volume in the Series:
Explores the legal and theoretical dimensions of the understudied topic of constitutional advice
Covers a broad range of constitutional systems from national, comparative and transnational angles
Brings together authors from diverse constitutional law jurisdictions and cultures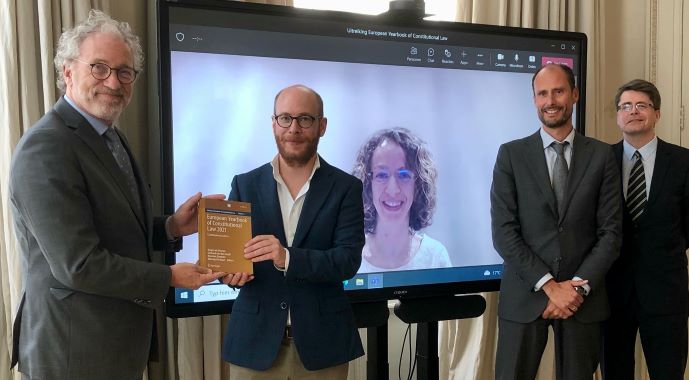 .
On 17 June 2022, the first copy of the European Yearbook of Constitutional Law 2021 was presented by the Editors to Thom de Graaf, Vice-President of the Raad van State [Netherlands Council of State].
In the above picture, from left to right: Thom de Graaf, Maarten Stremler, Maartje De Visser, Jurgen de Poorter and Gerhard van der Schyff
This is the third volume in the European Yearbook of Constitutional Law Series
Available for download

Front matter incl. preface and toc