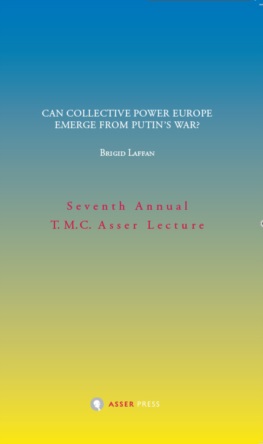 Can Collective Power Europe Emerge from Putin's War? - Seventh Annual T.M.C. Asser Lecture

Series: Annual T.M.C. Asser Lecture Series
September 2022
Order
Details
Published:

September 2022

Pages:

x + 50 pp.

Publisher:

T.M.C. ASSER PRESS

Distributor:

T.M.C. Asser Press
Brigid Laffan on her lecture Can Collective Power Europe Emerge from Putin's War?:
'On 24 February 2022, the post-war international order ended, as did the 1989 peace dividend. A major nuclear power, Russia, invaded its neighbour Ukraine, targeting civilians, reducing urban centres to a rubble and triggering a major displacement of people in Europe. For the European Union (EU) and the wider community of democracies, this is a critical juncture with implications for the security and political economy architecture of Europe and the wider world for decades to come.
The Russian invasion takes place against the return of hard geopolitics, Great Power competition and the weakening of multilateral institutions. Over the last decade, the EU, a polity but not a state, has been grappling with its response to new dynamics in global politics. Europe's search for a role has focused on ill-defined concepts such as strategic autonomy and European sovereignty. The collective EU wants to be a player, not a plaything, but is challenged by the imbalance between its economic power, diverging preferences of the member states and an inchoate approach to security which relies on NATO and the Transatlantic Alliance.
The focus of this lecture is threefold. First, it explores the response of the EU and the community of democracies to Putin's war. Second, it analyses the impact on global politics and Great Power competition, and three, it assesses the consequences of the war for the dynamics of European integration and the nature of the EU.'
About Brigid Laffan
Until this summer, Brigid Laffan was director and professor at the Robert Schuman Centre for Advanced Studies and director of the Global Governance Programme at the European University Institute (EUI), Florence, where she has worked since 20‌13. In 20‌18, Politico ranked Laffan, a long time professor of political science who grew up in Ireland, among the women who shape Europe. Laffan is a leading thinker on the dynamics of European integration. She has published a number of important books on Europe, such as Integration and Co-operation in Europe (19‌92), The Finances of the Union (19‌97), Europe's Experimental Union - Re-thinking Integration (20‌00, co-authored), Core-periphery Relations in the European Union (20‌16, co-edited) and Europe's Union in Crisis: Tested and Contested - West European Politics (20‌16).
Laffan was awarded the THESEUS Award for outstanding research on European Integration, and the UACES Lifetime Achievement Award. In 20‌10, she received the Ordre national du Mérite from the President of the French Republic.
The lecture held by Brigid Laffan has been published as a book in the Annual T.M.C. Asser Lecture Series
Download the full text of the Seventh Annual T.M.C. Asser Lecture below or order the printed version via press@asser.nl at EUR 10.00 excl. p&p.
Available for download

Seventh Annual T.M.C. Asser Lecture