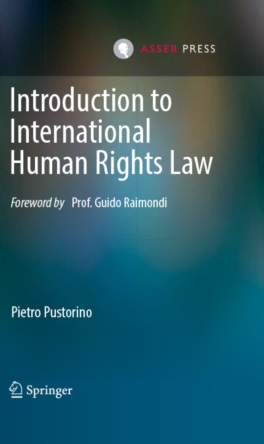 Introduction to International Human Rights Law
January 2023
Order
Details
Published:

January 2023

Pages:

xvi + 294 pp.

Publisher:

T.M.C. ASSER PRESS

Distributor:

Springer
This book offers a compact but general introduction to international human rights law. It discusses the theoretical, historical and legal foundations of international human rights law, providing an encompassing analysis of the substantive content of the most important human rights and of the role of States and non-State actors in ensuring their respect. It also carries out a specific analysis of the UN system and the ECHR and other regional systems – all this while constantly situating the discussion on international human rights law within the broader framework of public international law.
While particularly suitable for undergraduate students in law, this book is also aimed at students of political science and other social sciences, as well as academics and practitioners.
Pietro Pustorino is Full Professor of International Law at the Department of Law of Luiss University (Rome, Italy) and Director of the Luiss Center for International and Strategic Studies.
Specific to this book:
Firmly situates the discussion on international human rights law in the broader framework of public international law
Conducts a specific analysis of the ECHR system and of its application in domestic law
Thoroughly discusses the theoretical, legal and philosophical foundations of international human rights law
With a foreword by Prof. Guido Raimondi, President of the Labour Section of the Italian Supreme Court of Cassation; Professor of International Protection of Human Rights, Luiss Guido Carli (Rome); former judge and President of the European Court of Human Rights (2010 to 2019)
Available for download

Front matter incl. foreword, preface and toc