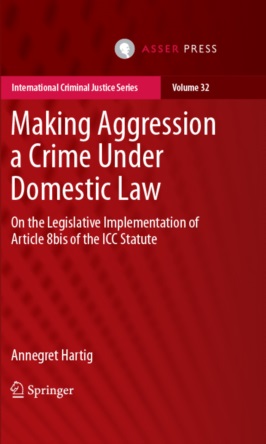 Making Aggression a Crime Under Domestic Law - On the Legislative Implementation of Article 8bis of the ICC Statute

Series: International Criminal Justice Series
March 2023
Order
Details
Published:

March 2023

Pages:

xvii + 511 pp.

Publisher:

T.M.C. ASSER PRESS

Distributor:

Springer
This book offers a comprehensive analysis of the legal questions that arise for the legislative branch when implementing the crime of aggression into domestic law. Despite being the "supreme international crime" that gave birth to international criminal law in Nuremberg, its ICC Statute definition has been incorporated into domestic law by fewer than 20 States. The crime of aggression was also omitted in the rich debate held among German scholars in the early 2000s regarding the legislative implementation of other ICC Statute crimes. The current inability of the International Criminal Court to respond to the Russian aggression towards Ukraine invites the continuation of these academic debates without neglecting the particularities of the crime of aggression.
The fundamental issues discussed in this volume include the obligation to criminalize aggression, the core wrong of the crime, the normative gaps under domestic law and the jurisdictional gaps under the ICC Statute. To facilitate the operationalization of domestic implementation, the book explores the technical options for incorporating the definition into domestic law, the geographical ambit of domestic jurisdiction—most notably universal jurisdiction—as well as legal challenges such as immunities.
The book is aimed primarily at researchers and States with an interest in the domestic implementation of international criminal law but those already working in the field should also find much of interest contained within it.
Dr. Annegret Hartig is Program Director of the Global Institute for the Prevention of Aggression and worked as a researcher at the University of Hamburg where she obtained her doctoral degree in international criminal law.
Specific to this book:
First monograph that deals comprehensively with the crime of aggression for the purpose of domestic implementation
Highlights practice and literature from a former aggressor State that became an advocate of international criminal law
Explores the methodological approaches to ascertaining customary international law in an inhibitory context
This is Volume 32 in the International Criminal Justice Series
Available for download

Front matter incl. acknowledgments and toc