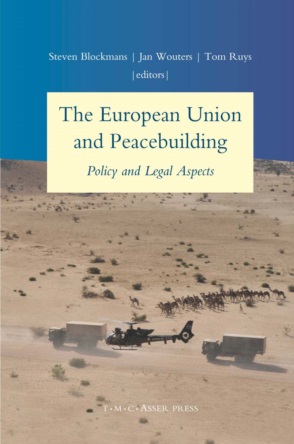 The European Union and Peacebuilding
2010
Order
With a Foreword by Catherine Ashton,
High Representative of the Union for Foreign Affairs and Security Policy / Vice-President of the European Commission
Like conflict prevention and crisis management, 'peacebuilding' forms an integral part of the European Union's external policy efforts to break the cycle of conflict, insecurity and poverty. A concept developed in the context of the United Nations, the EU's Lisbon Treaty mentions 'post-conflict stabilisation' among the tasks which the EU is set to perform in the implementation of the Common Security and Defence Policy. The Union's advance in this field has been universally welcomed by peacebuilding actors, especially since the EU's ongoing contributions in financial, technical and logistical terms in post-conflict areas have been couched in an increasing number of European Security and Defence Policy missions. The proliferation of the EU's institutional and operational mechanisms to build peace in post-conflict environments has led to a whole series of new policy and legal questions, which are addressed by leading practitioners and academics in this unique compilation.
• Contributions take into account the final text of the Lisbon Treaty and the lessons learned from more than twenty military and civilian operations • Addresses policy and legal potential and limits, and outlines the parameters for future decision-making and capacity-building • Combines thematic contributions with concrete case studies, and offers insights into how the EU's peacebuilding tools are implemented in practice
Download more information

EU Peacebuilding, Foreword by Catherine Ashton


EU Peacebuilding Summary of Contents