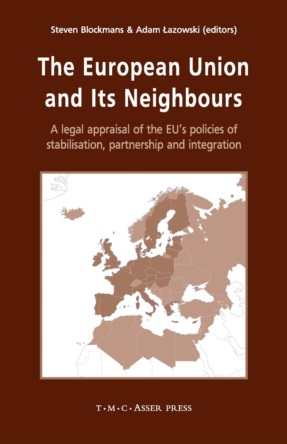 The European Union and its Neighbours - A Legal Appraisal of the EU's Policies of Stabilisation, Partnership and Integration
2006
Order
The European Union and Its Neighbours is the first legal appraisal of relations between the European Union and all the countries on its geographical borders. In the wake of its biggest enlargement to date, the EU faces a multitude of old and new opportunities and challenges on its borders: new markets, but also violent or frozen conflicts, terrorism, mass illegal migration, cross-border illegal trafficking of various kinds, the disruption of the flow of vital energy sources, etc. This book looks at the European Union as it transforms its existing neighbourhood policies towards all its geographical neighbours. As such, the analysis extends to legal, political and economic developments in the European Union's relations with countries as diverse as Croatia, Iceland, Russia, Switzerland, Turkey and Ukraine.
The authors together lay out the unique jigsaw puzzle of actions, policies and agreements, depicting the EU's policies towards its 'ring of friends' and offering ideas to strengthen the EU's position internationally. The book is divided into two parts. The first part questions the identity and borders of the EU, the multilevel complexity of the EU's external relations regime, and the evolving nature of the conditions for EU membership. The relations with individual countries or groups of states are analysed in the second part of the book.
Steven Blockmans (T.M.C. Asser Institute) and Adam Lazowski (University of Westminster) are senior researchers in EU law who have built up extensive experience in consulting and teaching in the EU's neighbouring countries. With the support of a multinational team of experts, the editors have compiled a comprehensive and well-structured overview of the relations between the European Union and its neighbours.
Available for download

Blockmans Lazowski Summary of Contents

Blockmans Lazowski Foreword