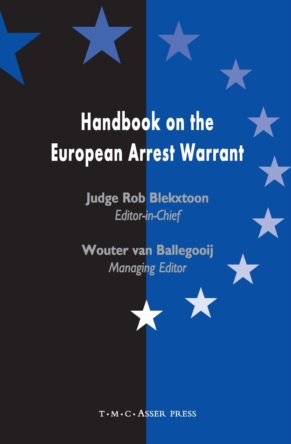 Handbook on the European Arrest Warrant
2005
Order
With a Preface by António Vitorino, Member of the European Commission responsible for Justice and Home Affairs.
On 13 June 2002 the Framework Decision on the European Arrest Warrant and Surrender Procedures between Members States of the European Union (EAW) was adopted by the Council of the European Union. The Framework Decision is to be implemented by all current and future members of the European Union in their respective legal systems. The new surrender regime replaces the system of extradition between the Member States.
The present Handbook offers an introduction to the EAW, its origin and its implications. The book sets out on the history of extradition as a legal system and compares the EAW with the old system. It includes the full text of the EAW with commentaries per paragraph. Attention is paid to procedural rules as well as to special issues, such as the principles of reciprocity and mutual trust, ne bis in idem, verdicts in absentia and the double criminality rule. The relation of the EAW with other relevant legal instruments, including those concerning human rights and procedural safeguards, is also covered. A keyword index enhances the accessibility of the book.
The Handbook on the European Arrest Warrant is written by legal experts – practitioners and academics – for government officials, judges and public prosecutors, legal practitioners, academics and everyone else involved in the implementation of the EAW on the national level.
Judge
Rob Blekxtoon was more than eighteen years Presiding Judge of the Extradition Division of the Amsterdam District Court and charged with establishing the Surrender Division of that Court, which is designated to handle all surrender cases in the Netherlands.
Available for download