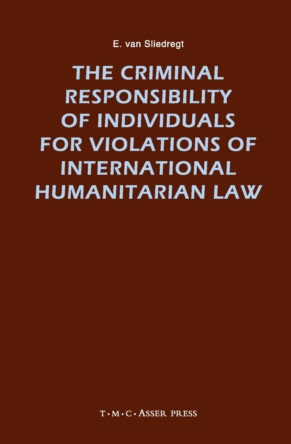 The Criminal Responsibility of Individuals for Violations of International Humanitarian Law
2003
Order
'Crimes against international law are committed by men, not by abstract legal entities'
This famous quote from the Nuremberg Judgement has often been cited to substantiate the existence of the principle of individual criminal responsibility in international criminal law. The principle was affirmed in subsequent national proceedings and has been endorsed by the Tribunals for the former Yugoslavia and Rwanda, and the International Criminal Court.
The author examines the concept of individual criminal responsibility for violations of international humanitarian law, i.e. genocide, crimes against humanity and war crimes. Such crimes are very rarely committed by single individuals, but mostly by organizations or groups of cooperating persons. For a just determination of their guilt and responsibility, a fair assessment of the mutual relationships and cooperation between those individuals is indispensable. This book provides the framework for that assessment. It gives guidance to practitioners and scholars on how to understand and apply international criminal law concepts such as 'common purpose', 'superior responsibility', 'duress' and the 'defence of superior orders'. It does so by bringing to light the roots of those concepts, which are hidden not only in earlier phases of the development of international criminal law, but also in the domestic laws of various states.
The accessibility and usability of this book is enhanced by a comprehensive Index, a Table of Cases and a List of Documents.
Available for download

Sliedregt Summary of Contents