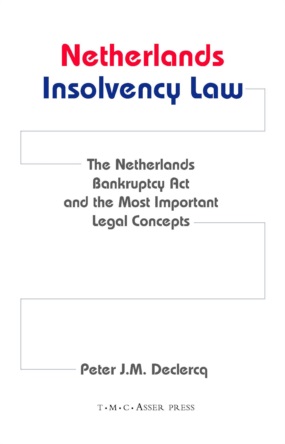 Netherlands Insolvency Law - The Netherlands Bankruptcy Act and the Most Important Legal Concepts
2002
Order
This is the first book in the English language covering the Netherlands insolvency law as a whole, with a focus on bankruptcy and the most important legal concepts pertaining to bankruptcy. It provides the reader with an understanding of the Netherlands Bankruptcy Act, the main source of insolvency law in the Netherlands, by laying out the primary law in a logical and comprehensive manner.
Where necessary, guidance has been sought in the parliamentary notes and the interpretation of the law in landmark cases. Concepts covered include actio pauliana, set-off, corporate liability and wrongful act. Pledges and mortgages, being the most important security rights in the Netherlands, are also discussed, as is the EU Insolvency Regulation (2000) and its impact on the Netherlands insolvency practice. Summaries are included to highlight key points throughout, and the book is complemented by a further reading section, bibliography, and a table of cases.
A practical book for use by internal and external legal counsel, Dutch and non-Dutch companies, students, academics and practitioners alike.
With a Preface by Antonius I.M. van Mierlo, Professor of Law, Erasmus University Rotterdam.
Available for download