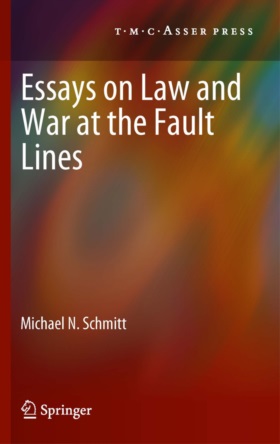 Essays on Law and War at the Fault Lines
2011
Order
Details
Published:

2011

Pages:

637 pp.

Publisher:

T.M.C. ASSER PRESS

Distributor:

Springer
This collection of essays by Professor Michael N. Schmitt, Chairman of the International Law Department at the United States Naval War College, draws together those of his articles published over the past two decades that have explored particular fault lines in the law of armed conflict. As such, they examine the complex interplay between warfare and law, seeking to identify where the law and warfare appear to diverge, and where such apparent divergence can be accommodated through contextual interpretation of the law.
Each essay examines a particular issue in either the jus ad bellum (the law governing resort to force) or jus in bello (international humanitarian law) that has proven contentious in terms of applying extant norms to the evolving face of armed conflict. Among the topics addressed are counter-terrorism, cyber operations, asymmetrical warfare, assassination, environmental warfare and the participation of civilians in hostilities.
The essays brought together in this book, dealing with the most complex and controversial issues of International Humanitarian Law and the use of force, form a unique collection of often cited works, used as a foundation for subsequent work in the area.
Available for download

Frontmatter, incl Table of Contents