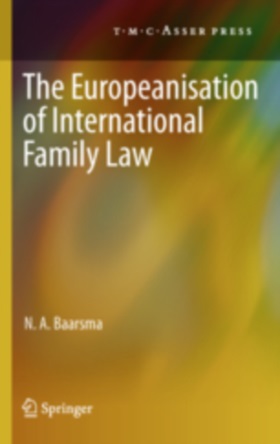 The Europeanisation of International Family Law
2011
Order
Details
Published:

2011

Pages:

341 pp.

Publisher:

T.M.C. ASSER PRESS

Distributor:

Springer
International family law is an area that is predominantly regulated by national law. Currently the national choice of law rules of the EU Member States are more and more displaced by common European rules, which will entail considerable changes.
In this book, the nature and reasons of the changes brought about by the transition from a national to a supranational choice of law approach are discussed in one particular field of international family law: the termination by dissolution of marriages and marriage-like registered partnerships. The current Dutch and the proposed European choice of law rules on divorce are examined and compared. Some Member States have strongly opposed the European proposal and no consensus could be reached.
The analysis of the failure of the European proposal shows that the most important bottleneck is the lack of a theoretical foundation of the unified choice of law. In the concluding chapter the author produces a number of recommendations on the development of (a theoretical foundation of) the European system of international family law, starting from the principles and objectives of European law.
Nynke Baarsma is presently working in the District Court of Groningen, The Netherlands.