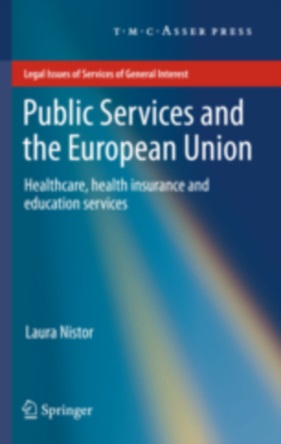 Public Services and the European Union - Healthcare, Health Insurance and Education Services

Series: Legal Issues of Services of General Interest
2011
Order
Details
Published:

2011

Pages:

445 pp.

Publisher:

T.M.C. ASSER PRESS

Distributor:

Springer
Politically sensitive and economically important, welfare services such as health care, health insurance and education have opened up a heated debate in the EU. The application of EU law to welfare services raises discontent on the part of Member States who perceive their systems to be under threat.
Resistance to the application of EU law is sometimes seen as part of protecting those values. This book suggests that this resistance is largely unjustified. EU law is not damaging to welfare systems, but provides adequate balancing mechanisms to ensure that all interests are protected.
The approach taken in analysing the impact of EU law on welfare services is to look at the negative integration process and answer the questions related to the extent to which EU law applies to welfare services and the kinds of safeguards the Court offers for these services. The proportionality principle distinguishes itself as the central element in balancing national and Community interests. Being part of the broader integration process, negative harmonization creates legislative lacunae, and therefore this book also looks at alternative solutions to the negative harmonization process, namely positive and soft law.
The Legal Issues of Services of General Interest Series
The aim of the series Legal Issues of Services of General Interest is to sketch the framework for services of general interest in the EU and to explore the issues raised by developments related to these services.
Available for download