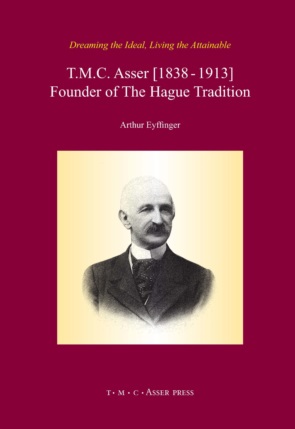 T.M.C. Asser [1838 - 1913] - Founder of The Hague Tradition
2011
Order
Details
Published:

2011

Pages:

XII + 114 pp.

Publisher:

T.M.C. ASSER PRESS

Distributor:

T.M.C. Asser Press
ISBN:

978-90-6704-340-3

Price:

€ 27.00
'The Learned Guide of our Nation' Tobias Asser was coined upon his demise by the then Dutch Foreign Minister, as this dignitary solemnly pledged his country over the open grave: 'We will not forget'. Fairly few though are the Dutch these days who will recall Tobias Asser's exceptional talents and the crucial role this gifted Amsterdam scholar of Jewish descent played in putting The Hague back in touch with the world and have it emerge as a centre of international law and diplomacy.
In retrospect, reviewing that is in the perspective of a full century of international adjudication and with The Hague Tradition of International Law firmly established; it is hard to imagine the unlikely beginnings of the current claims of our proud Legal Capital and the critical bearing of Tobias Asser's visionary, daring views on a remarkable process that turned history around.
This year we celebrate the centenary of Asser's unique status in The Netherlands as the nation's single Nobel Peace laureate, along with the assignment of the designation 'Royal' to the Dutch Association of International Law [the oldest national branch of the ILA], to which Tobias Asser stood godfather a full hundred years ago. It makes for a fitting moment to step back from the hectic world and briefly pause and ponder: Siste Viator!
Dr. Arthur Eyffinger [1947, The Hague] is a classicist and a legal historian.
Available for download
Foreword by Prof. N. Schrijver