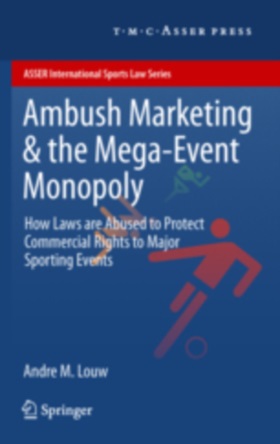 Ambush Marketing & the Mega-Event Monopoly - How Laws are Abused to Protect Commercial Rights to Major Sporting Events

Series: ASSER International Sports Law Series
2012
Order
Details
Published:

2012

Pages:

755 pp.

Publisher:

T.M.C. ASSER PRESS

Distributor:

Springer
This is the first book to focus critically on the legitimacy of legal responses to ambush marketing. It comprehensively examines recent sports mega-events and the special laws which combat ambushing. The approach of the book is novel. It does not blindly accept often-touted truisms regarding the illegitimacy of ambushing. The author argues that the debate concerning the ethics and legality of ambushing should be revisited, and that lawmakers have simply gone too far.
This book will likely raise eyebrows in sports business circles, and not all readers will be comfortable with the implications of the author's findings. It makes for an engaging read for anyone interested in sports law and the business of sport, including lawyers, academics, students, sports administrators and sponsorship and marketing practitioners, but especially lawmakers in sports mega-event host nations.
Dr. Andre M. Louw is a Senior Lecturer at the Faculty of Law, University of KwaZulu-Natal, South Africa.
This book appears in the ASSER International Sports Law Series, under the editorship of Prof. Dr. Robert Siekmann, Dr. Janwillem Soek and Marco van der Harst LL.M.
Excerpt from a review:
Law professor Jon Heshka (Thompson Rivers University, British Columbia) says:
'This book is an incredible piece of work. It is exhaustively researched and painstakingly detailed. [It] represents a valuable contribution to the literature. What has been sorely absent from the shelves of legal and marketing scholarship is a critical inquiry into ambush marketing. This book addresses this pressing need. It is thoughtful and thoroughly researched, bridging the gap between sports, IP law and history.'
Available for download

Frontmatter, incl. Table of Contents

Bookreview Prof. Ian Blackshaw, ISLJ Fall 2012