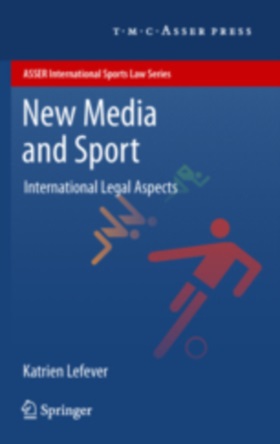 New Media and Sport - International Legal Aspects

Series: ASSER International Sports Law Series
2012
Order
Details
Published:

2012

Pages:

xv + 322 pp.

Publisher:

T.M.C. ASSER PRESS

Distributor:

Springer
During the past decade, the media landscape and the coverage of sports events have changed fundamentally. Sports fans can consume the sports content of their choice, on the platform they prefer and at the time they want. Furthermore, thanks to electronic devices and Internet, content can now be created and distributed by every sports fan. As a result, it is argued that media regulation which traditionally contains rules safeguarding access to information and diversity would become redundant. Moreover, it is sometimes proposed to leave the regulation of the broadcasting market solely to competition law. This book illustrates that media law is still needed, even in an era of abundance, to guarantee the public's access to live and full sports coverage.
Dealing with the impact of new media on both media and competition law this book will greatly appeal to academics and stakeholders from various disciplines, such as legal and public policy, political science, media and communications studies, journalism and European studies. Additionally it contains valuable information and points of view for policy makers, lawyers and international and intergovernmental organisations, active in media development. The book contains an up-to-date analysis and overview of the different competition authorities' decisions and media provisions dealing with the sale, acquisition and exploitation of sports broadcasting rights.
Katrien Lefever is Senior Legal Researcher at IBBT - The Interdisciplinary Centre for Law and ICT (ICRI), KU Leuven, Belgium.
With a Foreword by Prof. Dr. Stefaan Van den Bogaert, Professor of European Law, University of Leiden, The Netherlands
This book appears in the ASSER International Sports Law Series, under the editorship of Prof. Dr. Robert Siekmann, Dr. Janwillem Soek and Marco van der Harst LL.M.