Summer Programme on Disarmament and Non-Proliferation of Weapons of Mass Destruction in a Changing World
04 - 08 September 2017
Starts at:

09:00h

Fee:

€ 1495

Venue:

T.M.C. Asser Instituut

Organiser:

T.M.C. Asser Instituut and the Organisation for the Prohibition of Chemical Weapons

Address:

R.J. Schimmelpennincklaan 20-22
2517 JN The Hague
Netherlands

Email:

educationtraining@asser.nl
In August 2010, the T.M.C Asser Instituut and the OPCW launched the first Summer Programme on Disarmament and Non-Proliferation of Weapons of Mass Destruction ("WMD Summer Programme"). In its first years the programme has established itself as a highly regarded educational resource for advanced graduate students and early- to mid-career professionals with interests in WMD diplomacy and treaty implementation. The WMD summer programme continually evolves and discusses cross-cutting aspects in high-level panels and now introduces more inter-active elements such as a debate and a simulation exercise.
Programme
During an intensive week, the summer programme provides a comprehensive overview of WMD. The programme content is delivered by a group of experienced and internationally renowned academics, diplomats and independent experts in the fields of international law, security and related disciplines. The sessions are complemented with interactive elements such as a high-level panel, a simulation exercise and field visits.

What will you gain?
Hands-on knowledge of the diplomatic, legal and technical aspects of disarmament and non-proliferation;
Insight into the work of key professionals in the area of WMD, seasoned with their personal experiences; and
Unique networking opportunities with speakers and participants from diverse backgrounds.
Click the image for the preliminary programme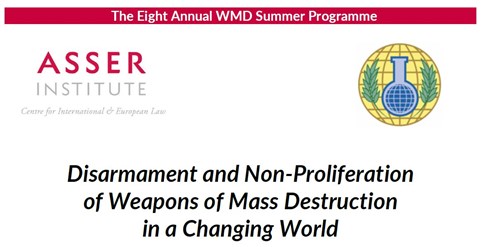 Who should participate?
The summer programme is designed for early- to mid-career professionals working for the government, such as national export control bodies, national authorities for the implementation of the CWC/BWC and national nuclear (energy) agencies. Individuals working for nongovernmental organisations, think tanks addressing WMD concerns and research centres in related disciplines are also invited to apply.

Application

Please read the Registration Information & Conditions carefully before registration.

Fee
€ 1495

This fee includes lectures, study materials, study visits, water/tea/coffee and lunch during working days, two receptions and an opening dinner.

The fee does not cover (international) travel costs, domestic travel to and from airports, (hotel) accommodation, insurance or other expenses. The T.M.C. Asser Instituut can provide prospective participants with a list of suitable hotels in The Hague.

4 Full scholarships available
The Dutch Ministry of Foreign Affairs has generously offered to fund 4 full scholarships. The call for scholarships is closed and no further applications will be accepted. 
Photo: Cpl James Elmer
© Crown Copyright