All Rise: Journeys to a Just World
31 October 2017
Starts at:

17:00h

Fee:

Free

Organiser:

T.M.C. Asser Instituut, International Court of Justice and the Municipality of The Hague

Address:

R.J. Schimmelpennincklaan 20-22
2517 JN The Hague
Netherlands
At the initiative of, and in co-operation with, the International Court of Justice and the Municipality of The Hague, the T.M.C. Asser Instituut will organize a viewing of the movie "All Rise" in the framework of the ASSER-ICJ Series on Tuesday 31 October 2017 from 17.00 – 19.00. The event is a great opportunity especially for (advanced) international law students in The Netherlands to learn more about International Law Moot Courts.
The movie depicts the efforts of seven passionate students of law from India, Israel, Jamaica, Palestine, Russia, Singapore, and Uganda to compete in the world championships in Washington, DC, of the Philip C. Jessup International Law Moot Court Competition (the "Jessup"). As the makers themselves say 'this moving film lays bare the struggles, triumphs and transformations they experience alone and together'. 
Here is the trailer of "All Rise": 
You can find more information about "All Rise" here.  
After the viewing of the movie there will be ample time for a Questions and Answers session with Her Excellency ICJ Judge Julia Sebutinde, moderated by Olivier Ribbelink from the Asser Institute.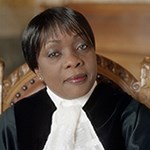 Judge Julia Sebutinde