ISLJ Annual International Sports Law Conference
25 October 2018
Starts at:

09:30h

Fee:

Starting at 200

Venue:

T.M.C. Asser Instituut

Organiser:

T.M.C. Asser Instituut and ISLJ Editorial Board

Address:

R.J. Schimmelpennincklaan 20-22
2517 JN The Hague
Netherlands
We look forward to welcoming you to the second ISLJ Annual International Sports Law Conference on 25–26 October 2018 in The Hague. This year's edition will touch upon many of the burning issues in international sports law and governance, such as the impact of human rights in sports, the role of science in the regulation of sports, and the increasingly important intersection between competition law and the private rules of sports governing bodies.
We are pleased to welcome the following distinguished keynote speakers:
Franck Latty is a law professor at the Université Paris Nanterre and the author of a ground-breaking academic study on the lex sportiva.
Margareta Baddeley is a law professor at the Université de Genève and an expert on the interaction between Swiss law and the private regulations of sports governing bodies.
Sylvia Schenk is a German lawyer, a CAS arbitrator, and a member of FIFA's Human Rights Advisory Board.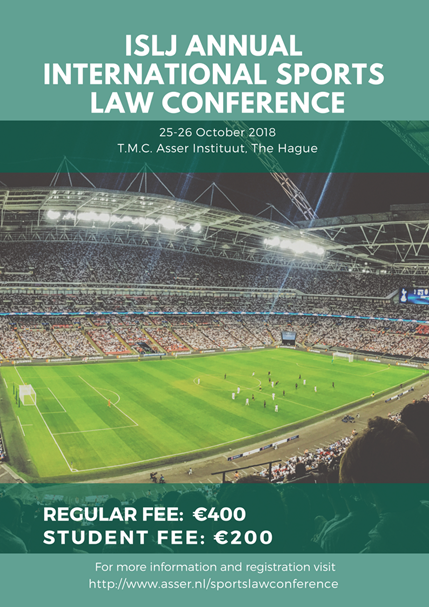 Programme
Day 1
9:00 Registration and coffee
9:30 Opening - Antoine Duval (Asser Institute) & Johan Lindholm (Umeå University)
10:00 Opening Keynote – Margareta Baddeley (Université de Genève)
11:00 - 12:30 Panel 1: The Governance of Sport in Theory and Practice


Stéphanie De Dycker - Good Governance in Sport: Comparative Law Aspects
Kevin Tallec Marston & Nejat Haciömeroglu - Rethinking the Sport Governance Landscape: An état des lieux to Redefine and Conceptualize the Fundamental Questions
Kendra Magraw - Separation of Sport and State: Impermissible Military Salutations at US Professional Soccer Events
12:30 - 13:30 Lunch
13:30 - 15:00 Panel 2: Sports Regulation Between Science, Politics and the Law 
Marjolaine Viret - Improving the Anti-Doping System through Interdisciplinary Tools: Utopia or Necessity?
Roger Pielke Jr. - A Critique of the Use of Evidence in IAAF Regulatory Policy Making
Paul Greene & Matthew D. Kaiser - Retroactive Therapeutic Use Exemptions: Comparing TUE Policies and Their Effect on Athletes
Coffee Break
15:15 - 16:45 Panel 3: Human Rights in Sports: Window Dressing or New Beginning? 

Daniel West - The adjudication of human rights disputes in sport: a phantom regime?
Florian Kirschner - Breakthrough or much ado about nothing? FIFA´s bidding process in the light of best practice examples of human rights assessments under the UNGP Framework
Carmen Pérez González - International Human Rights Law in Sports: Enhancing Private-Public Cooperation
Coffee Break
17:00 - 18:00 Keynote Discussion with Sylvia Schenk (Herbert Smith Freehills)
19:00 Conference Dinner
Day 2
9:30 - 10:30 Keynote Lecture – Franck Latty (Université Paris-Nanterre)
Coffee Break
10:45 - 12:15 Panel 4: The Many Faces of Sports Arbitration


Despina Mavromati - Burden and Standard of Proof in Sports Arbitration: Law and Practice
Hubert Radke - Basketball Arbitral Tribunal (BAT) as a "Lawmaker": The Creation of Global Standards of Basketball Contracts through Consistent Arbitral Decision Making.
Burak Gemalmaz - Applicability of Human Rights Standards in Turkish Football Arbitration: The Potential Contribution of the European Court of Human Rights
12:15 - 13:15 WISLAW Lunch talk
13:15 - 14:45 Panel 5: The Boundaries of Sports Competitions: Competition law and the Private Regulation of Sport
Salil K. Mehra - Sports, Two-Sided Markets and the Dilemma of Amateurism
Katherine K. Porter - Fraser Revisited: Major League Soccer's Unique Governance Structure as a Single-Entity Sports League
Rusa Agafonova - International Skating Union v. European Commission: Is the European Sports Model under Threat?
Coffee Break
15:00 - 16:30 Panel 6: (Re-Re-)Regulating the Football Transfer Market and its Actors
Gregory Ioannidis - Football Intermediaries and Self-Regulation: The Need for Greater Transparency Through Disciplinary Law, Sanctioning and Qualifying Criteria
Richard Parrish & Vanja Smokvina - Promoting and Supporting Good Governance in the European Football Agents Industry
Cem Kalelioglu - FIFA International Transfer Certificate Disputes Before the Court of Arbitration for Sport
Reception
To download the full programme in PDF click here.
Registration Packages:
Normal fee - €400
Includes:
The latest issue of the ISLJ
Lunch and refreshments
Final Reception
Student fee - €200
Includes:
The latest issue of the ISLJ
Lunch and refreshments
Final Reception
Early Bird fee - Early Bird Fee (Deadline 2 September 2018) - €300
Includes:
The latest issue of the ISLJ
Lunch and refreshments
Final Reception
Dinner add-on (€50)
If you wish to participate in the dinner with the speakers on Thursday 25 October you will have to pay an additional €50.
For more information and details on the ISLJ Annual International Sports Law Conference, please visit the website.