[Online] Advanced summer programme on terrorism, countering terrorism and the rule of law
30 August - 03 September 2021
Starts at:

09:00h

Fee:

Course full

Venue:

Online

Organiser:

T.M.C. Asser Instituut
From August 30 – September 3, 2021 , the T.M.C. Asser Instituut and ICCT in The Hague will host the eleventh Advanced summer programme on terrorism, counter-terrorism and the rule of law. In this thought-provoking summer training you will learn all there is to learn on the international and domestic legal aspects of counter-terrorism, in inspiring and interactive classes by international top speakers in the field. Read the preliminary programme here.
This training programme has reached its maximum capacity. If you wish to be added to the waiting list, please send an e-mail to educationtraining@asser.nl. In case a spot opens up for you, we will inform you accordingly. We also encourage you to have a look at our upcoming masterclass in the field of counterterrorism taking place on 15-16 November 2021.
Overview
Despite a temporary respite in violent activities, terrorism remains a significant and serious threat in many countries across the globe. As states' resources have been stretched by the global COVID-19 pandemic, terrorist organisations have sought to exploit the reduced public attention on their activities to strengthen their base and fuel divisions. In North America, Western Europe and Oceania, the threat of far-right political terrorism has been steadily rising, with an increase in far-right incidents of 250 percent between 2014-2019 (Global Terrorism Index 2020).
Although ISIL has been less active, 27 countries in the Middle East and North Africa recorded an attack by ISIL or by its affiliate groups, with Sub-Saharan Africa having been hit the hardest. Within the EU, ten people died and 27 were injured following terrorist attacks, and more than a thousand individuals were arrested on suspicion of terrorism-related offences. A further 119 'foiled, failed and completed' terrorist attacks were reported by 13 EU member states (Europol).
Across the world, extremist and terrorist activities have continuously triggered an increase in security-related laws and measures. To prevent terrorism as early as possible, states have introduced limitations on freedom of speech, curbs on financial and other support and have resorted to revoking nationalities.
How proportionate and legitimate are these measures? Are they effective?
About the programme
The 11th version of our renowned summer programme will bring you inspiring and thought-provoking lectures by leading experts in the field, interactive sessions, virtual study visits, group discussions (Chatham House Rules), panel presentations and a great, global network in the field. Click here to read our preliminary programme. 
Click here to see an overview of our lecturers in 2020.
Click here to see a video from the 10th Advanced summer programme on terrorism, counter-terrorism and the rule of law.
Key topics
Countering terrorism and the public interest
Understanding extremism and radicalisation
Prosecuting terrorism cases in practice
(Permanent) conflicts and states of emergency
Countering the financing of terrorism 
Cyber criminality and cyber security
Latest trends in the legal aspects of terrorism & counter-terrorism
Virtual study visits in Europol and Eurojust
Target audience
Practitioners
Diplomats
Academics
Civil service
Policymakers
PhD candidates
Security services
People working for NGOs
National and international experts
Reviews 2020

"To be honest, I was very pleasantly surprised by how well it went. I was rather apprehensive of how much I could actually get from an online course, (wondering to which extent learning could really take place when sitting continuously in front of a computer in a "listening" position), but I barely ever lost focus during the week, and I feel I have learned a lot of interesting things to reflect on. I also want to mention that I really appreciate the efforts of the Asser team to keep everyone on the agenda, respect the timings of start/end of lectures and to allow for decent time for Q&A. I am aware how challenging this must be, but this is really important for effective engagement of all, so great job, thanks! Excellent course."
"There was a perfect balance between presentations and participation.''
"This was a course with a very well-constructed digital environment.''
"The digital educational interactive learning academy of the Asser Institute has been very well-organised. There were plenty of opportunities for interaction and thus online trainings like these can be a very good substitution of face-to-face learning.''
"The facilitators did an excellent job of provided ample opportunities for active engagement. The presenters were thoughtful and kind with their time.''
"Presenters were extremely professional and the medium of communication was excellent.''
Project leader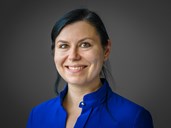 Dr Rumyana van Ark (née Grozdanova) is researcher in Terrorism, Counter-Terrorism and International Law at the T.M.C. Asser Instituut (University of Amsterdam) within the Asser research strand 'Human Dignity and Human Security'. She is also a senior coordinator and research fellow at the International Centre for Counter-Terrorism (ICCT – The Hague). She is currently part of the consortium team of experts within the European Commission funded Radicalisation Awareness Network (RAN) as well as part of the team evaluating the operation of EU Directive 2017/541 on Combatting Terrorism.

Contact: educationtraining@asser.nl

Study in The Hague - the international City of Peace and Justice