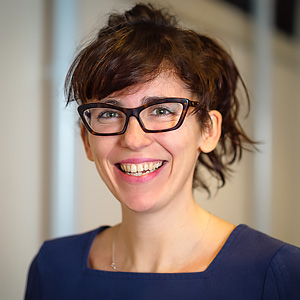 Dr Marta Bo LL.M.
Researcher

Department:

Research Department

Main field of interest:

International Criminal Law

International Humanitarian Law

Public International Law
Summary
Dr. Marta Bo is a researcher at the Asser Institute and postdoctoral researcher at the Graduate Institute for International and Development studies (Geneva). She is member of the board of the Antonio Cassese Initiative.
She is currently researching on criminal responsibility for war crimes committed with autonomous weapon systems (LAWS and War Crimes Project). She has published on international and transnational criminal law, law of the sea and human rights.
Background:
Marta holds a Master's degree in Law from the University of Bologna and an LL.M. in public international law from the University of Leiden. She completed her Ph.D. in international law (2015) at the University of Genova on the topic of human rights violations in the current practice concerning the arrest and prosecution of pirates.
Interests and work:
Marta's areas of interests are international and transnational criminal law; international criminal procedure; the law of the sea and human rights; artificial intelligence and criminal responsibility (in particular for war crimes).
She lectured in several universities, including the University of Amsterdam, the University of Pavia and Bocconi University (Milan).
Marta is a qualified lawyer and she has acquired varied working experience in international criminal tribunals (ICC and ICTY) and NGOs (International Bar Association's Human Rights Institute, Peace and Justice Initiative and Antonio Cassese Initiative).
For the Antonio Cassese Initiative, Marta has developed, coordinated and implemented capacity-building and training projects in international and transnational criminal law, international humanitarian law and human rights law.
Finally, Marta is Italian reporter for the Oxford Reports on International Law in Domestic Courts (ILDC).
Selected publications:
WHO IS CRIMINALLY RESPONSIBLE FOR THE COMMISSION OF WAR CRIMES WHEN LETHAL AUTONOMOUS WEAPON SYSTEMS ARE DEPLOYED IN ARMED CONFLICTS? available at https://www.graduateinstitute.ch/communications/news/who-criminally-responsible-commission-war-crimes-when-lethal-autonomous-weapon
The Situation in Libya and the ICC's understanding of Complementarity in UNSC-Referred Cases, in 25 Criminal Law Forum 2014, 505-540;
EU Counter-Piracy Operations and the Protection of Human Rights at Sea, in Scritti di diritto privato europeo ed internazionale 2015, 267-290;
The Interplay Between International Law and National Law in The First Italian Prosecution of Piracy: the M/V Montecristo Case, XXIV Italian Yearbook of International Law 2015, 289-314;
European Court of Human Rights: Hassan and Others v. France and Ali Samatar and Others v. France, 30 The International Journal of Marine and Coastal Law 2015, 551-558;
Piracy at the Intersection between International and National: Regional Enforcement of a Transnational Crime in H. Van der Wilt (ed.) Legal Responses to Transnational and International Crimes, Towards and Integrative Approach, Edward Elgar Publishing, 2017, 71-91.
M. Bo, A. Petrig, The International Tribunal for the Law of the Sea and Human Rights, in M. Scheinin (ed.) Human Rights Norms in 'Other' International Courts and Tribunals, CUP, 2019.
Marta in the Media
La absolución de Gbagbo genera un debate sobre el papel de la CPI, interview with Dr Marta Bo (published in El Confidencial, eldiario.es, and La Vanguardia), Agencia EFE (19 January 2019).
La Cour pénale internationale fragilisée après l'acquittement de Laurent Gbagbo, interview with Dr Marta Bo (published in La Libre Afrique and Le Devoir), Agence France-Presse (15 January 2019).
Pressure mounts on war crimes court after Gbagbo blow, interview with Dr Marta Bo (published in The Independent, Daily Mail, Yahoo News, and The Citizen), Agence France-Presse (15 January 2019).