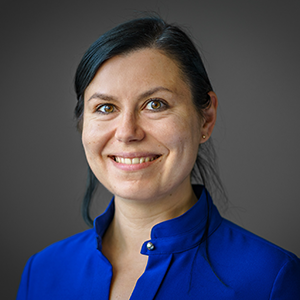 Dr Rumyana van Ark - Grozdanova
Researcher

Department:

Research Department

Main field of interest:

Comparative constitutional law

Human Rights

Public International Law

Rule of Law
Summary
Dr. Rumyana van Ark (née Grozdanova) is Post-Doctoral Researcher in Terrorism, Counter-Terrorism and International Law at the T.M.C. Asser Institute within the Research Strand 'Human Dignity and Human Security'. She is also a Research Fellow and a Coordinator at the International Centre for Counter-Terrorism (ICCT – The Hague). Her work focuses on the impact of counter-terrorism measures on the individual terror suspect and the long-term implications for the rule of law.
Rumyana holds a PhD in Law (focusing on human rights and counter-terrorism) from the University of Durham, an LLM in Criminology and Criminal Justice from University College Dublin and a BA (Hons.) Legal Studies with Business from Nottingham Trent University.
Twitter: @DrRumyanavanArk
Background
Between September 2014 and April 2018, she was a Lecturer (the UK equivalent of an Assistant Professor) in the University of Liverpool Law School where she taught and coordinated two research-led Year 3 undergraduate courses (Security, Conflict and the Law and Introduction to the Law of the ECHR) and a core LLM module on International Peace and Security. She also coordinated all the Year 3 undergraduate dissertation modules. During the 2015/2016 academic year, she was nominated for the LawCareers.Net Lecturer of the Year Award. During her PhD studies in Durham Law School, Rumyana was a Tutor in European Constitutional Law. She is also a Fellow of the Higher Education Academy (UK) and holds a Certificate in Professional Studies in Learning and Teaching in Higher Education.
Research Interests
Her general research interests include International and European Human Rights, Terrorism, Counter-Terrorism and Constitutionalism, States of Emergency, Legal and Political Theory and International Law or more specifically, the relationship between the individual (terror suspect) and the state following acts of terrorism. She is interested in the impact of domestic and international counter-terrorism measures and national security policies on the individual, the rule of law and state accountability.She is currently exploring the increasing normalisation of secret or closed evidence within counter-terrorism cases and the impact on the rule of law and individual human rights and dignity.
Selected Peer-Reviewed Publications
van Ark, R., 'Individual Terrorist Suspects as the New Folk Devil: New Labour, Rights Tokenism and Security Considerations', invited book chapter, Prof. M. Gordon and Dr. Adam Tucker (eds.), Hart Publications. Forthcoming in 2019.
van Ark, R., 'The Normalisation of Secrecy in the UK and the Netherlands: Individuals, the Courts and the Counter-Terrorism Framework', selected book chapter, Prof. M. Scheinin and Dr. Christophe Paulussen (eds.). Forthcoming in 2019.
Grozdanova, R., 'Extraordinary Rendition: A Study of the 'Gaps' in the International Legal Framework', (2017) Doctoral Thesis, University of Durham.
Grozdanova, R., 'The United Kingdom and Diplomatic Assurances: A Minimalist Approach to the Anti-Torture Norm', (2015) 15 (3) International Criminal Law Review 517 – 543
Grozdanova, R., 'Terrorism' – Too Elusive a Term for an International Legal Definition?', (2014) 61 (3) Netherlands International Law Review 305 – 334
Grozdanova, R., 'Privatizing War: Private Military and Security Companies under Public International Law', (2014) 1 European Human Rights Law Review 86 – 88
Grozdanova, R. and de Londras, F., "Protecting Victims' Rights in the EU: the Theory and Practice of Diversity of Treatment during the Criminal Trial" (2014, Centre for European Constitutional Law, available at http://www.victimsprotection.eu)
Select Peer-Reviewed Online Publications
'British Citizenship Revoked, Bangladeshi Citizenship Uncertain – What next for Shamima Begum?', ICCT Perspective (March 2019)
'The Shamima Begum case: Revoking Citizenship is Ineffective and Counterproductive', T.M.C. Asser Blog, co-authored with Dr. Christophe Paulussen (February 2019)
'Incitement to Terrorism – Treating the Symptoms or Addressing the Causal Maladies?', ICCT – The Hague Perspective (November 2018)
'The Normalisation of Secrecy in the UK and Dutch Courts', joint T.M.C. Asser and IACL (Constitutional Responses to Terrorism) Verfassungsblog Symposium (invited contribution in May 2018)
'Ritualised Responses to 'New' Terror Threats post 9/11', Centre for International Governance and Justice (RegNet, ANU) Blog – Regarding Rights (invited contribution in February 2016)
'Stateless Terrorists: Domestic and International Legal Implications', Human Rights in Ireland (co-authored guest post in November 2013)
'US Surveillance Leaks', Human Rights in Ireland (authored guest post in June 2013)
'Extraordinary Rendition and Human Rights: The Case of Khaled El-Masri', Centre for International Governance and Justice (RegNet, ANU) Blog – Regarding Rights (invited contribution in March 2013