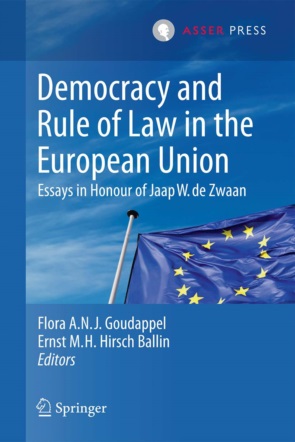 Democracy and Rule of Law in the European Union - Essays in Honour of Jaap W. de Zwaan
January 2016
Order
Details
Published:

January 2016

Pages:

xxvii + 232 pp.

Publisher:

T.M.C. ASSER PRESS

Distributor:

Springer
The present collection of essays offers the reader a broad range of original perspectives on democracy and the rule of law in the European Union, approaching the existing policy area from new points of view. Leading experts from different countries and backgrounds focus on how democracy and the rule of law are related to topics like security, pension rights, judicial cooperation and human rights protection. Their expert views are based on a combination of theory and knowledge acquired in their practice as academics or practitioners in the field of European integration.
The issue of the rule of law and democracy is close to the heart of Professor Jaap de Zwaan, a true European, building bridges between countries and peoples. He has written extensively on the subject of European integration. Therefore, this collection of expert views is not only an original and valuable contribution to the literature and discussion on the development and enlargement of the European Union, but at the same time it is a tribute to Jaap de Zwaan, whose academic and diplomatic career can be characterized as always serving "an ever closer Union".
Flora Goudappel is Jean Monnet Professor of EU Trade Law in the Overseas Territories at the Erasmus University Rotterdam and a consultant on European Union law.
Ernst Hirsch Ballin is Professor of Dutch and European Constitutional Law at Tilburg University and Professor of Human Rights Law at the University of Amsterdam.
Specific to this book:
Offers various perspectives on democracy and the rule of law
Combines theory with practice
Links existing policy areas to new points of view