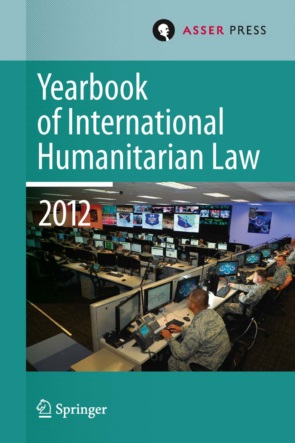 Yearbook of International Humanitarian Law - Volume 15, 2012 - Yearbook of International Humanitarian Law
2014
Order
Details
Published:

2014

Pages:

VIII, 256 p.

Publisher:

T.M.C. ASSER PRESS

Distributor:

Springer
'Child Soldiers and the Lubanga Case' and 'The Tallinn Manual on the International Law Applicable to Cyber Warfare' are the two central themes of this volume. Each of these timely topics is addressed from three different angles, providing a truly comprehensive analysis of the subject. The book also features an article on the duty to investigate civilian casualties during armed conflict and its implementation in practice and an elaborate year in review, discussing developments that occurred in 2012.
The Yearbook of International Humanitarian Law is the world's only annual publication devoted to the study of the laws governing armed conflict. It provides a truly international forum for high-quality, peer-reviewed academic articles focusing on this crucial branch of international law. Distinguished by contemporary relevance, the Yearbook of International Humanitarian Law bridges the gap between theory and practice and serves as a useful reference tool for scholars, practitioners, military personnel, civil servants, diplomats, human rights workers and students.

For the Correspondents' Reports please click www.asser.nl/YIHL/correspondentsreports.
Download more information

Frontmatter, incl. Table of Contents