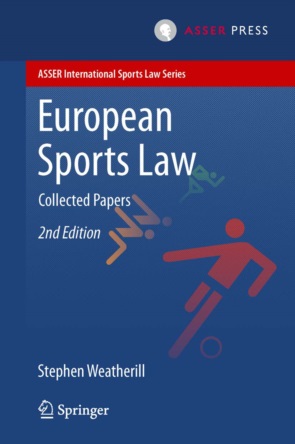 European Sports Law - Collected Papers, 2nd edition

Series: ASSER International Sports Law Series
January 2014
Order
Details
Published:

January 2014

Pages:

XIV, 573 p.

Publisher:

T.M.C. ASSER PRESS

Distributor:

Springer
European Sports Law: Collected Papers, Second Edition contains the collected works (1989-2012) of Stephen Weatherill, Jacques Delors Professor of European Community Law, Somerville College, University of Oxford, United Kingdom, with an extensive introduction on the background and rationale for the selected papers.
Stephen Weatherill is a leading academic and author on the subject of European Union law and professional sport. His work is of the highest academic standard and practice-oriented at the same time, which has a strong impact on major court cases and the development of international sports law in general.
The updated Second Edition is a vademecum for those involved with international sport and the challenges European law and sport provide and is an indispensable tool for administrators, managers, researchers, academics, marketers, broadcasters, advisers and practitioners.
With Forewords by Maître Jean-Louis Dupont, Avocat, Belgium and Professor Richard Parrish, Edge Hill University, Ormskirk, UK
This book appears in the ASSER International Sports Law Series, under the editorship of Dr. Dave McArdle, Prof. Dr. Ben Van Rompuy and Marco A. van der Harst LL.M.
Available for download

Frontmatter, incl. Table of Contents