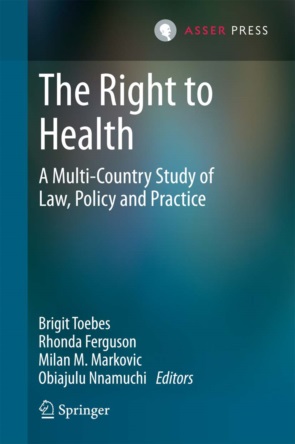 The Right to Health: a Multi-Country Study of Law, Policy and Practice
September 2014
Order
Details
Published:

September 2014

Pages:

xv + 456 pp.

Publisher:

T.M.C. ASSER PRESS

Distributor:

Springer
This interdisciplinary study analyses how the internationally guaranteed human 'right to health' is realized by States at a national level. It brings together scholars from more than ten different countries, each of them analyzing the right to health in his or her country or region. They all focus on particular themes that are important in their country, such as health inequalities, the Millennium Development Goals, or the privatization of healthcare. And despite the differences in context, lessons can be learned from the rich experiences of the others, to learn how different countries implement (or not) health-related rights.
In this book, scholars, practitioners and policy makers in the fields of human rights law, health law, public health and their intersections will find a rich source of information, giving a boost to the international debate on propagation and implementation of the universal Right to Health.
Brigit Toebes is an Associate Professor and Rosalind Franklin Fellow in international health law at the University of Groningen, The Netherlands. Rhonda Ferguson is a Ph.D. candidate at the Irish Centre for Human Rights, National University of Ireland, Galway, Ireland. Milan M. Markovic is a fellow with the Institute of Social Sciences, Belgrade and a legal advisor with Mental Disability Rights Initiative (DRI) in Belgrade, Serbia and a doctoral candidate at the University of Graz, Austria. Obiajulu Nnamuchi is Assistant Professor of Law, University of Nigeria and President/Chief Consultant, Centre for Health, Bioethics and Human Rights (CHBHR) Enugu, Nigeria.
With a Foreword by Paul Hunt, University of Essex, UN Special Rapporteur on the Right to Health (2002-2008).
Excerpt from the Foreword:
"The key challenge confronting the health and human rights movement is the translation of international and national human rights law into operational policies, programmes and other health-related interventions. Nowhere is this more challenging – and more important – than within countries."
Available for download

Frontmatter, incl. Table of Contents