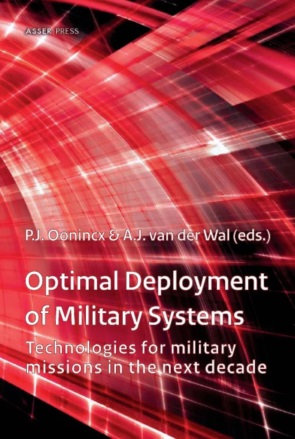 Optimal Deployment of Military Systems - Technologies for Military Missions in the Next Decade
August 2014
Order
Details
Published:

August 2014

Pages:

viii + 355 pp.

Publisher:

T.M.C. ASSER PRESS

Distributor:

T.M.C. Asser Press
ISBN:

978-90-6704-347-2

Price:

€ 27.50
The development and application of modern technology plays a pivotal role in modern warfare. Therefore it is evident, that projects on large material renewal and acquisition attract a lot of attention in both the military and the political scene. Introducing new technologies and novel military platforms can lead to fundamentally re-thinking on their usage and of course on the budget involved. When it comes to the acquisition of novel technologies, we therefore expect exciting years ahead.
In view of these new developments this book presents an outlook on emerging technologies currently being studied by the Netherlands Defence Academy and its partners. This book does not only deal with new future technologies themselves, but also with new operational concepts and paradigms that are created by these technologies, viz., planning, system integration, and life-cycle management.
Prof. Dr. ir. P.J. Oonincx is member of the board of the Faculty of Military Sciences and Chair of the Department of Military Sciences Studies at the Netherlands Defence Academy.
Dr. A.J. van der Wal is associate professor of Signal Processing and Artificial Intelligence at the Netherlands Defence Academy.
Verkrijgbaar bij T.M.C. Asser Press via de order button hierboven, zolang de voorraad strekt.
Available from T.M.C. Asser Press via the order button above as long as stocks last.
Available for download