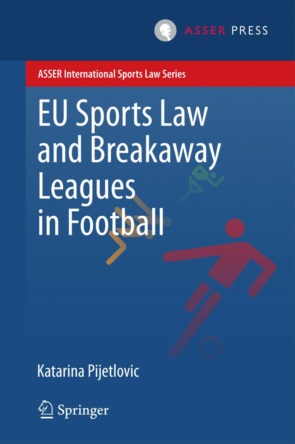 EU Sports Law and Breakaway Leagues in Football

Series: ASSER International Sports Law Series
February 2015
Order
Details
Published:

February 2015

Pages:

xvi + 273 pp.

Publisher:

T.M.C. ASSER PRESS

Distributor:

Springer
Katarina Pijetlovic is the first author to address the issue of breakaway leagues in football and their treatment under EU law. In this book she guides the reader through EU sports law, the specificities of the sporting industry and the problems and power struggles in European football governance in the context of the breakaway threats by elite clubs.
In order to analyse the legality of UEFA clauses that restrict the formation of such breakaway structures, the author first provides a progressive interpretation of the applicable EU sports law and an in-depth analytical review of EU sports cases decided under internal market and competition provisions, including a novel perspective on the UEFA home-grown rule and the Bosman case. Thereafter, she sets out an original theory of convergence between TFEU provisions on competition and the internal market in the light of sporting exceptions.
Finally, in applying the legal principles thus outlined, Katarina Pijetlovic explores the legality of the restrictive UEFA clauses and the case for the formation of alternative leagues in European football under EU sports law. A number of surprising outcomes emerge from this analytical process. Conversely, she also tests the largely neglected issue of the legality of forming a breakaway league by the European elite football clubs.
The systematic way in which the reader is guided through EU sports law and the legal issues under consideration makes the book accessible for EU lawyers as well as non-EU sports lawyers, on both an academic and a practitioner's level.
Katarina Pijetlovic holds licentiate and doctoral degrees in EU sports law from the University of Helsinki.
This book appears in the ASSER International Sports Law Series, under the editorship of Dr. Dave McArdle, Prof. Dr. Ben Van Rompuy and Marco A. van der Harst LL.M.
Available for download

Frontmatter, incl. Table of Contents