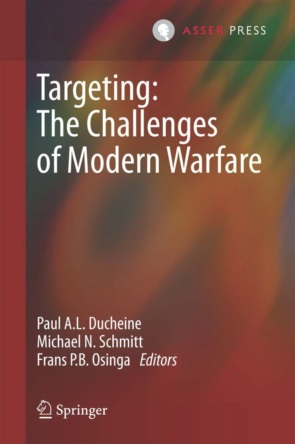 Targeting: The Challenges of Modern Warfare
November 2015
Order
Details
Published:

November 2015

Pages:

XVI, 299 p.

Publisher:

T.M.C. ASSER PRESS

Distributor:

Springer
This book offers a multidisciplinary treatment of targeting. It is intended for use by the military, government legal advisers and academics. The book is suitable for use in both military training and educational programs and in Bachelor and Master degree level courses on such topics as War Studies and Strategic Studies.
The book first explores the context of targeting, its evolution and the current targeting process and characteristics. An overview of the legal and ethical constraints on targeting as an operational process follows. It concludes by surveying contemporary issues in targeting such as the potential advent of autonomous weapon systems, 'non-kinetic' targeting, targeting in multinational military operations and leadership decapitation in counter-terrorism operations.
The deep practical experience and academic background of the contributors ensures comprehensive treatment of current targeting and use of force issues.
Paul Ducheine is Professor for Cyber Operations and Cyber Security, Netherlands Defence Academy, Breda, The Netherlands, and Professor of Law of Military Cyber Operations and Cyber Security at the University of Amsterdam, The Netherlands. Michael Schmitt is Charles H. Stockton Professor & Director, Stockton Center for the Study of International Law, U.S. Naval War College, Newport, Rhode Island, United States, and Professor of Public International Law, University of Exeter, UK. Frans Osinga is Chair of the War Studies Department, Netherlands Defence Academy, Breda, The Netherlands, and Professor of Military Operational Art and Sciences.
Available for download

Frontmatter incl. Table of Contents