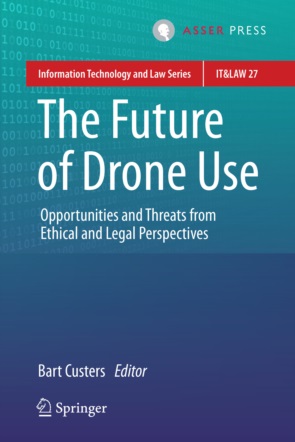 The Future of Drone Use - Opportunities and Threats From Ethical and Legal Perspectives

Series: Information Technology and Law Series
October 2016
Order
Details
Published:

October 2016

Pages:

xxiii + 386 pp.

Publisher:

T.M.C. ASSER PRESS

Distributor:

Springer
Given the popularity of drones and the fact that they are easy and cheap to buy, it is generally expected that the ubiquity of drones will significantly increase within the next few years. This raises questions as to what is technologically feasible (now and in the future), what is acceptable from an ethical point of view and what is allowed from a legal point of view. Drone technology is to some extent already available and to some extent still in development. The aim and scope of this book is to map the opportunities and threats associated with the use of drones and to discuss the ethical and legal issues of the use of drones.
This book provides an overview of current drone technologies and applications and of what to expect in the next few years. The question of how to regulate the use of drones in the future is addressed, by considering conditions and contents of future drone legislation and by analyzing privacy and other safeguards that can be taken. As such, this book is valuable to scholars in several disciplines, such as law, ethics, sociology, politics and public administration, as well as to practitioners and others who may be confronted with the use of drones in their work, such as professionals working in the military, law enforcement, disaster management and infrastructure management. Individuals and businesses with a specific interest in drone use may also find in the nineteen contributions of this volume unexpected perspectives on this new field of research and innovation.
Bart Custers is Associate Professor and Head of Research at eLaw, the Center for Law and Digital Technologies at Leiden University, The Netherlands. He has presented his work at international conferences in the United States, China, Japan, the Middle East and throughout Europe and has published over 80 scientific, professional and popularizing publications, including three books.
Specific to this book:
Maps legal and ethical challenges and contributes to the current debate on the use of drones
Provides an overview of current drone technologies and applications and what to expect in the next few years
Offers solutions on how to deal with these challenges from technological, legal and policy perspectives
Excerpt from a book review:
If an understanding of the concerns prevalent with drones is sought, I recommend the book. It will give you an understanding of the social and legal issues.
- François Gibeault, Bart Custers, Editor, The Future of Drone Use, The Hague, T.M.C. Asser Press, 2016, Droit international humanitaire, 6 mai 2019, Revue québécoise de droit international.
For the full review, see https://www.sqdi.org/fr/bart-custers-editor-the-future-of-drone-use-the-hague-t-m-c-asser-press-2016/
This is Volume 27 in the Information Technology and Law (IT&Law) Series
Available for download

Frontmatter, incl. Table of Contents