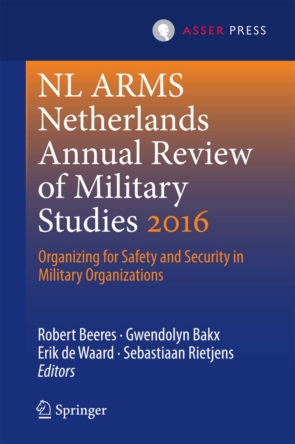 Netherlands Annual Review of Military Studies 2016 - Organizing for Safety and Security in Military Organizations

Series: NL ARMS Netherlands Annual Review of Military Studies
August 2016
Order
Details
Published:

August 2016

Pages:

VIII, 353 p.

Publisher:

T.M.C. ASSER PRESS

Distributor:

Springer
With a foreword by Prof. Dr. H. Rudolph, Dean of Faculty of Military Studies Netherlands Defence Academy, The Netherlands Ministry of Defence, and Prof. Dr. ir. Patrick J. Oonincx, Research Director Faculty of Military Sciences Netherlands Defence Academy, The Netherlands Ministry of Defence
This year´s NL ARMS addresses the constant struggle within military organizations to cope with intertwined safety and security issues. When tasked to undertake action, armed forces organize themselves to tackle the security problems at hand, whilst, simultaneously, asking themselves how to conduct their work in the safest possible way. This often results in tensions between safety and security that materialize in various organizing aspects.
As it turns out, there is an abundance of literature on both safety and security, as well as on the management of military organizations. Studies that connect security and military organizations, and, to a lesser extent, studies that focus on the relation between safety and military organizations, can also be found. However, as to research connecting all three concepts (security, safety and the management of military organizations) there appears to be a void.
NL ARMS 2016 attempts to fill this void by offering a collection of studies on the inter-relatedness between safety and security in military organizations so as to anticipate or even prepare for dire situations. The volume contains a wide spectrum of contributions on organizing for safety and security in a military context that are theoretically as well as empirically relevant. Theoretically, the contributions draw upon international security studies, safety science, as well as organizational studies. Empirically, a great number of practical realities are addressed, including national crisis management, logistics and unconventional warfare by, for instance, the Special Forces. The result is a truly unique volume that may serve practitioners, policymakers and academics in gaining a better understanding of organizing for the security-safety nexus.
All the editors are affiliated with the Faculty of Military Sciences of the Netherlands Defence Academy in Breda, The Netherlands.
Specific to this volume in the Series:
Connects the concepts of security, safety and the management of military organizations
Provides a framework for studying organizational vulnerabilities in military task forces
Contains research that applies knowledge from specific domains to organizing for safety and security in the military realm
The NL ARMS is published annually and appears in the NL ARMS Netherlands Annual Review of Military Studies Series
Available for download

Frontmatter, incl. Table of Contents