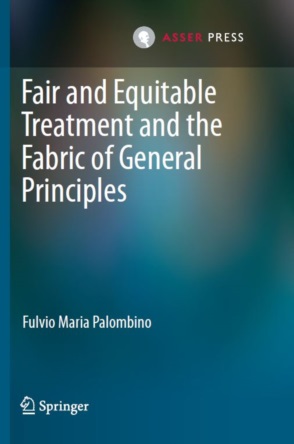 Fair and Equitable Treatment and the Fabric of General Principles
December 2017
Order
Details
Published:

December 2017

Pages:

xvi + 189 pp.

Publisher:

T.M.C. ASSER PRESS

Distributor:

Springer
This book moves from the circumstance whereby currently the obligation to provide fair and equitable treatment (FET) to foreign investments is included in the majority of international investment agreements and has proved to be the most invoked standard in investor-State arbitration. Hence, it is no overstatement to describe this standard as the basic norm of international investment law. Yet both its meaning and normative basis continue to be shrouded in ambiguity and, as a consequence, to inspire a considerable number of interpretations by legal writers. The book's precise aim is to unravel such ambiguity, arguing from the idea that FET has become part of the fabric of general international law, but has done so by means of a source somewhat neglected in legal doctrine. This being the category of general principles peculiar to a certain field of international law, i.e. those principles having their own foundations in the international legal order itself, but which, through the mediation of the judge, end up being shaped according to the features typical of a specific normative field. The book, as well as having a solid theoretical backdrop as its basis, offers a careful and critical analysis of pertinent case law, and will prove useful to both scholars and practitioners.
Fulvio Maria Palombino is Professor of International Law at the Law Department of the University of Naples Federico II and a member of the Executive Board of the European Society of International Law.
Specific to this book:
Explains the ICSID practice clearly and concisely
Useful in practical terms
Excerpts from a review:
'Fair and Equitable Treatment and the Fabric of General Principles' is an original and well researched book, in which the author challenges a number of conventional wisdoms on FET.
Among the strengths of the book one can mention the solid discussion of public international law principles relevant to FET and the interesting incursions into domestic law legal systems which play an important role in the understanding of FET components such as due process, legitimate expectations or proportionality.
In particular the section on promises provides a convincing analysis of the issues that arise when the administration makes an assurance or representation to an investor. Against the backdrop of the examination of unilateral acts under public international law, Palombino's analysis sheds new light on what ought to be the proper scope of protection under the legitimate expectations doctrine in case of governmental promises, clarifying a number of points which have received insufficient attention by arbitral tribunals thus far.
- Michele Potestà, Attorney with Lévy Kaufmann-Kohler, Geneva; Senior Researcher, Geneva Center for International Dispute Settlement (CIDS)
book review in International and Comparative Law Quarterly, (2018) 67(4), 1036-1037.
For the full review, see: https://doi.org/10.1017/S0020589318000246
Available for download

Frontmatter, incl. Table of Contents