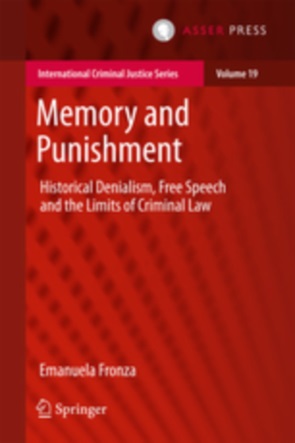 Memory and Punishment: Historical Denialism, Free Speech and the Limits of Criminal Law

Series: International Criminal Justice Series
February 2018
Order
Details
Published:

February 2018

Pages:

xxxix + 217 pp.

Publisher:

T.M.C. ASSER PRESS

Distributor:

Springer
This book examines the criminalisation of denials of genocide and of other mass atrocities in Europe and discusses the implications of protecting institutional historical memory through criminal law.
The analysis highlights the tensions with free speech, investigating the relationship between criminal law and historical memory. The book paves the way for a broader discussion about fake news, 'post-truth' scenarios, and free expression in a digital world. The author underscores the need to protect well-founded factual records from the dangers of misinformation. Historical denialism and the related jurisprudence represent a key step in exploring this complex field.
The book combines an interdisciplinary approach with criminal law methodology. It is primarily aimed at academics, practitioners and others who wish to deepen their understanding of historical denialism, remembrance laws, 'speech crimes' and freedom of expression.
Emanuela Fronza is Senior Research Fellow in Criminal Law and Lecturer in International and European Criminal Law at the School of Law, University of Bologna. She is a Principal Investigator within the EU research consortium Memory Laws in European and Comparative Perspectives funded by HERA (Humanities in the European Research Area).
Specific to this book:
Contains a comparative legal analysis, a study of the dynamics of criminalization and an in-depth analysis of the trade-off and tensions between memory and oblivion, punishment and forgiveness, and between national and universal (international) dimensions
Offers a large and complete comparative description of the criminalisation of denialism
Combines a large interdisciplinary spectrum with a strict criminal law methodology
With a foreword by Eric Heinze, Professor of Law and Humanities, School of Law, Queen Mary University of London
This is Volume 19 in the International Criminal Justice Series
Available for download

Frontmatter, incl. Table of contents