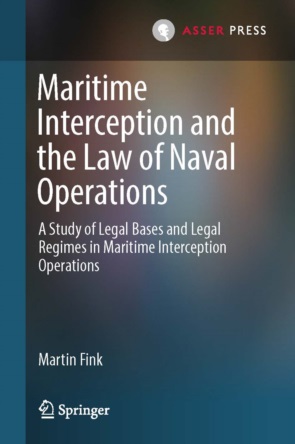 Maritime Interception and the Law of Naval Operations - A Study of Legal Bases and Legal Regimes in Maritime Interception Operations
September 2018
Order
Details
Published:

September 2018

Pages:

xvi + 326 pp.

Publisher:

T.M.C. Asser Press

Distributor:

Springer
This book considers the international law applicable to maritime interception operations (MIO) conducted on the high seas and within the context of international peace and security, MIO being a much-used naval operational activity employed within the entire spectrum of today's conflicts.
The book deals with the legal aspects flowing from the boarding and searching of foreign-flagged vessels and the possible arrest of persons and confiscation of goods, and analyses the applicable law with regard to maritime interception operations through the legal bases and legal regimes. Considered are MIO undertaken based on, for instance, the UN Collective Security System (maritime embargo operations), self-defence and (ad-hoc) consent, and within the context of legal regimes various views are provided on the right of visit, the use of force and the use of detention.
This volume, which has contemporary naval operations as its central focus and structures the analysis as a sub-discipline of the international law of military operations, will be of great interest both to academics, practitioners and policy advisors working or involved in the field of military and naval operations, and to those professionals wanting to learn more about the international law of military operations, naval operations, and the law of the sea and maritime security.
Specific to this book:
Has (military) naval operations (maritime interception operations) as its central focus
Deals with practitioners' challenges/perspectives with regard to MIO
Deals with the application of maritime interception from the perspectives of international peace and security and maritime security
Written from a practical perspective; the author has personal experience with regard to MIO
An excerpt from a book review:
This book is intended for readers who are professionally involved in military legal advice at sea, and is one that should be kept on the bookshelf, ready to be used in case of need. Systematic, accurate and userfriendly, Commander Fink's book is an outstanding legal study – from a practitioner's point of view – of the complex and multi-faceted realities of contemporary maritime interception operations (MIOs) conducted to restore or maintain international peace and security.
- Matteo Tondini, Legal adviser and researcher, Member, International Institute of Humanitarian Law, Sanremo, Italy, book review from The Journal of International Maritime Law (2018) 24 JIML, published by Lawtext Publishing Limited, see http://www.lawtext.com/lawtextweb/default.jsp?PageID=2
Available for download

frontmatter incl table of contents