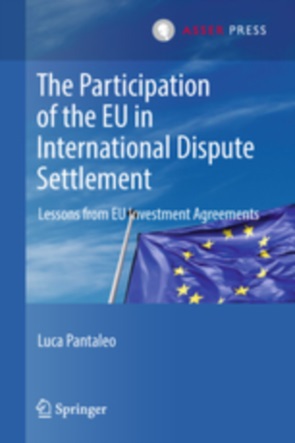 The Participation of the EU in International Dispute Settlement - Lessons from EU Investment Agreements
October 2018
Order
Details
Published:

October 2018

Pages:

xiv + 176 pp.

Publisher:

T.M.C. ASSER PRESS

Distributor:

Springer
The topic of this book is the participation of the EU in international dispute settlement. It aims to provide the reader with an appraisal of the most problematic aspects connected with the participation of a sui generis legal subject such as the EU to international dispute settlement mechanisms in a State-centric international law.
In particular, the publication dwells on the question of how to make possible an effective participation in disputes while at the same time preserving the specific characteristics (i.e. the autonomy) of the EU legal order. It does so by outlining different models and proposing the internalization model adopted under EU investment agreements as a possible paradigm.
It is aimed at academics, practitioners and graduate students as well as EU officials and judges who should find the issues discussed both useful and of interest for staying up-to-date on the scholarly discussion and of their relevance to case law.
Luca Pantaleo is a Lecturer in International and European Law at The Hague University of Applied Sciences in The Netherlands. He obtained a PhD in International and EU Law in 2013 at the University of Macerata in Italy and was previously a Senior Researcher at the T.M.C. Asser Institute and Postdoctoral researcher at the University of Luxembourg.
Specific to this book:
Provides an up-to-date analysis of a current problem
The topic of the book is located at the intersection between international and EU law
Fills an important gap in the available literature
With a foreword by Prof. Paolo Palchetti.