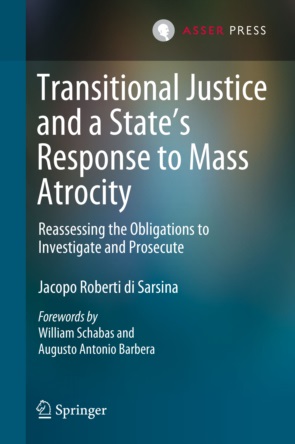 Transitional Justice and a State's Response to Mass Atrocity - Reassessing the Obligations to Investigate and Prosecute
March 2019
Order
Details
Published:

March 2019

Pages:

XLII, 249 p., 2 illus., 1 illus. in full-colour

Publisher:

T.M.C. ASSER PRESS

Distributor:

Springer
With forewords by Prof. William Schabas and Em. Prof. Augusto Antonio Barbera, Judge of the Constitutional Court of Italy
This book brings a new focus to the ongoing debate on holding perpetrators of massive humanitarian and human rights violations accountable in countries in transition. It provides a clear-cut and comprehensive legal analysis of the content and nature of a state's obligations to investigate and prosecute as enshrined in the most important humanitarian and human rights treaties; it disentangles the common fallacy that these procedural obligations are naturally rooted and clearly spelled out in the general human rights treaties; and it explains the flaws in an absolutist interpretation. This analysis serves to understand whether such procedural obligations, if narrowly construed, act as impediments to countries emerging from periods of conflict or systematic repression in the face of contingent circumstances and the formidable dilemmas raised by a univocal understanding of justice as retribution.
Exploring the latest instances of interpretation and application via an analysis of state practice, the jurisprudence of treaty bodies, international courts and tribunals, soft law instruments, and doctrinal contributions, the book also addresses the complex issue of amnesty, and other transitional justice mechanisms designed to restore peace and facilitate transition traditionally included in national reconciliation programs, and criticizes the contention that amnesty is always prohibited by international law. It also considers these problems from the viewpoint of the International Criminal Court, focusing on the cases of Uganda and Colombia after the 2016 peace agreement.
Lastly, the volume offers a detailed analysis of techniques that may neutralize relevant obligations under international law, such as denunciation, derogation, limitation, and the public international law defenses of force majeure and necessity.
Drawing attention to the importance of a multidisciplinary and practical approach to these unsettling questions, and endorsing a pluralistic notion of accountability, the book will appeal to legal scholars and transitional justice experts as well as practitioners, human rights advocates, and government officials.
Dr Jacopo Roberti di Sarsina is an International Law Expert at the Alma Mater Studiorum - University of Bologna School of Law, and a dual-qualified lawyer (Italy and New York). He completed a PhD in public international law, label Doctor Europaeus, at the School of International Studies, University of Trento, holds an LLM from NYU School of Law, and read law at the University of Bologna.
Specific to this book:
Provides a clear-cut legal analysis regarding the debate on a State's obligations to investigate and prosecute serious violations of humanitarian and human rights law in countries in transition.
Comprehensively analyzes these obligations to investigate and prosecute.
In a departure from the majority view, it adopts a critical and nuanced approach firmly based on a classic international law methodology.
Sheds light on the 2016 Colombian Peace Agreement as a potential new paradigm.
Draws attention to the importance of a multidisciplinary approach squaring international law with international politics.
Hailed as "rigorous", "solid", of "excellent quality", and "exceptionally well researched".
A review of the book:
Amb. Giulio Terzi di Sant'Agata, former Minister of Foreign Affairs of Italy, on his Facebook-page (posted 10 November 2019):
I was struck by the work of a very young Italian, who attained the grade of "excellence" in humanistic research, Dr. Jacopo Roberti di Sarsina, an expert in international law who (…) is now a researcher at the Faculty of Law Alma Mater Studiorum [University of Bologna], as well as a lawyer with double qualifications in Italy and the United States.
His book entitled "Transitional Justice and a State's Response to Mass Atrocity", which boasts forewords by both Prof. William Schabas and Prof. Augusto Barbera, focuses on the ongoing debate regarding serious violations of human and human rights, especially in countries in "transition".
In the book Dr. Roberti di Sarsina explores the latest examples of interpretation and application of international law through an analysis of state practice, courts, soft law instruments and doctrinal contributions, without excluding reflections on the complex issue of amnesty and of other transitional justice mechanisms designed to restore peace and facilitate the transition in areas of the world being reconciled.
Download more information