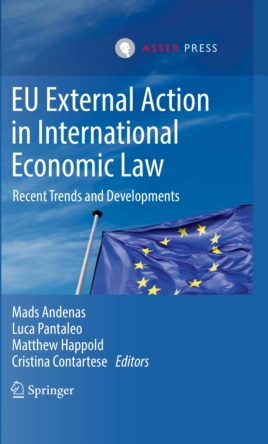 EU External Action in International Economic Law - Recent Trends and Developments
October 2020
Order
Details
Published:

October 2020

Pages:

vi+339 p. + 1 fc ill.

Publisher:

T.M.C. ASSER PRESS

Distributor:

Springer
The topic of this book is the external action of the EU within international economic law, with a special focus on investment law. The aim of the volume is to provide the reader with an appraisal of the most recent trends and developments that have characterised a field that has been rapidly evolving and in which the EU has imposed itself as a leading actor.
The book is aimed at academics, practitioners and graduate students as well as at EU officials and judges, all of whom should find the subject matter discussed useful for keeping updated on a scholarly discussion of relevance to case law.
Mads Andenas is Professor of Law at the Faculty of Law of the University of Oslo in Norway. Luca Pantaleo is Doctor of Law and Assistant Professor in European Union Law, Department of Political and Social
Sciences at the University of Cagliari in Italy. Matthew Happold is Professor of Law at the Université du Luxembourg in Luxembourg. Cristina Contartese is Lecturer in EU Law at The Hague University of Applied Sciences in The Hague, The Netherlands.
Specific to this book:
Up-to-date analysis of a rapidly changing subject
Written by leading experts in the field
Strong practical and academic implications
Available for download

Front matter incl. table of contents