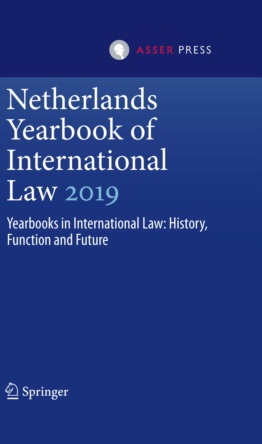 Netherlands Yearbook of International Law 2019, Volume 50 - Yearbooks in International Law: History, Function and Future (50th Volume)

Series: Netherlands Yearbook of International Law
December 2020
Order
Details
Published:

December 2020

Pages:

ix + 403 pp, 4 ill. (2 b&w, 2 fc)

Publisher:

T.M.C. ASSER PRESS

Distributor:

Springer
This volume of the Netherlands Yearbook of International Law (NYIL) is the fiftieth in the Series, which means that the NYIL has now been with us for half a century. The editors decided not to let this moment go by unnoticed, but to devote this year's edition to an analysis of the phenomenon of yearbooks in international law.
Once the decision was made that this would be the subject of this year's NYIL, the editors asked themselves a number of questions. For instance: Not many academic disciplines have yearbooks, so what is the reason we do? What is the added value of having a yearbook alongside the abundance of international law journals, regular monographs and edited volumes that are published on a yearly basis? Does the existence of yearbooks tell us something about who we are, or who we think we are, or what we have to contribute to the world? These questions will be addressed both in a general and in specific sense, whereby a number of yearbooks published all over the world will be looked at in further detail.
The Netherlands Yearbook of International Law was first published in 1970. It offers a forum for the publication of scholarly articles in a varying thematic area of public international law.
Specific to this volume of the Yearbook:
The first time that editors of yearbooks on international law, published in all parts of the world, came together to jointly reflect on what distinguishes a yearbook from other publications.
The volume offers a unique illustration of the variety of approaches and ideas on what it means to "be" and edit a yearbook on international law.
This book provides a rich collection of best practices and lessons learned to inspire the next generation of yearbook editors, helping them secure a bright future for their publication and guarantee the yearbook's lasting relevance.
Click here for general information about the Netherlands Yearbook of International Law (ISSN: 0167-6768, EISSN: 1574-0951).
If you are interested in submitting your article, please contact the Managing Editor: Dr. Carl Emilio Lewis, T.M.C. Asser Instituut, The Hague, The Netherlands, c.lewis@asser.nl
Click here for the Author Guidelines, the topic of the next volume of NYIL and the documentation (online since 2011).
The Netherlands Yearbook of International Law is published in the Netherlands Yearbook of International Law Series
Available for download

Front matter incl. table of contents