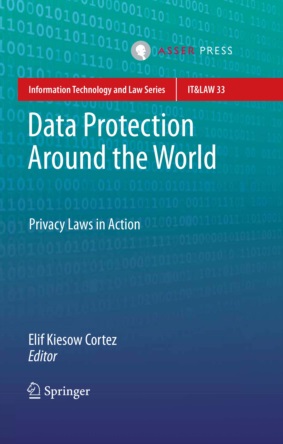 Data Protection Around the World - Privacy Laws in Action

Series: Information Technology and Law Series
November 2020
Order
Details
Published:

November 2020

Pages:

xiv + 279 pp.

Publisher:

T.M.C. ASSER PRESS

Distributor:

Springer
This book provides a snapshot of privacy laws and practices from a varied set of jurisdictions in order to offer guidance on national and international contemporary issues regarding the processing of personal data and serves as an up-to-date resource on the applications and practice-relevant examples of data protection laws in different countries.
Privacy violations emerging at an ever-increasing rate, due to evolving technology and new lifestyles linked to an intensified online presence of ever more individuals, required the design of a novel data protection and privacy regulation. The EU General Data Protection Regulation (GDPR) stands as an example of a regulatory response to these demands.
The authors included in this book offer an in-depth analysis of the national data protection legislation of various countries across different continents, not only including country-specific details but also comparing the idiosyncratic characteristics of these national privacy laws to the GDPR. Valuable comparative information on data protection regulations around the world is thus provided in one concise volume.
Due to the variety of jurisdictions covered and the practical examples focused on, both academics and legal practitioners will find this book especially useful, while for compliance practitioners it can serve as a guide regarding transnational data transfers.
Elif Kiesow Cortez is Senior Lecturer at the International and European Law Program at The Hague University of Applied Sciences in The Netherlands.
Specific to this book:
Offers a timely and practice-oriented view on a subject currently at the centre of much discussion
Covers several jurisdictions from a variety of angles
Presents the most recent case examples regarding data protection and privacy regulation
This is Volume 33 in the Information Technology and Law (IT&Law) Series
Available for download

Front matter incl. table of contents