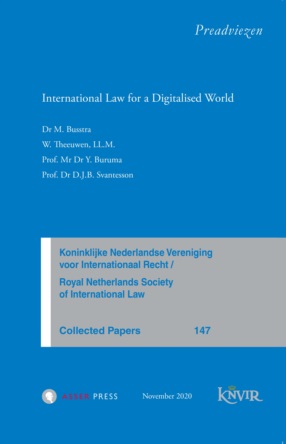 Collected Papers van de Koninklijke Nederlandse Vereniging voor Internationaal Recht - nr 147 - International Law for a Digitalised World

Series: KNVIR Preadviezen
October 2020
Order
Details
Published:

October 2020

Pages:

160 pp.

Publisher:

T.M.C. ASSER PRESS

Distributor:

T.M.C. Asser Press
Verkrijgbaar bij/ Available from: press@asser.nl, Prijs EUR 25,00 excl. verzendkosten/Price EUR 25.00 excl. p&p
Table of Contents
M. Busstra and W. Theeuwen
International Law in the Context of Cyber Operations
Y. Buruma
International Law and Cyberspace – Issues of Sovereignty and the Common Good
D.J.B. Svantesson
Is International Law Ready for the (Already Ongoing) Digital Age? Perspectives from Private and Public International Law
Excerpts from a book review:
I find particularly interesting the discussion about when and to what extent a State can demand and enforce that information and operations on the internet comply with its laws. In the borderless environment of the internet there is an obvious risk that many States, for instance all States from where internet content can be or has been accessed, simultaneously consider themselves legitimately authorized to regulate online activities, perhaps imposing mutually incompatible requirements. There is, in fact, substantial support for such "effects doctrine" among legal writers, at least regarding some situations.
[...]
Despite its modest size, the volume contains many thought-provoking ideas and proposals. I can recommend it to all jurists interested in a concise but informative presentation and discussion of this fascinating area of public and private international law.
- Michael Bogdan, Lund
Published in Rabels Zeitschrift für ausländisches und internationales Privatrecht/ The Rabel Journal of Comparative and International Private Law (RabelsZ) 86, 561–564, the full review is available at DOI: 10.1628/rabelsz-2022-0048, ISSN 0033-7250 – © 2022 Mohr Siebeck.
The Collected Papers of the KNVIR are published annually and appear in the KNVIR Preadviezen Series