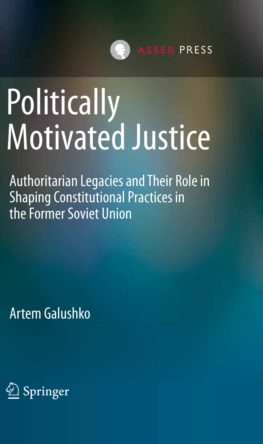 Politically Motivated Justice - Authoritarian Legacies and their Role in Shaping Constitutional Practices in the Former Soviet Union
April 2021
Order
Details
Published:

April 2021

Pages:

xxii + 208 pp.

Publisher:

T.M.C. ASSER PRESS

Distributor:

Springer
The book addresses authoritarian legacies of politically motivated justice and its unwritten practices that have re-emerged in the recent trials related to both political and ordinary criminal charges against prominent opposition leaders in many former Soviet republics. Taking into account that in any country all trials are more or less related to politics, the author differentiates between trials on political issues (political trials that are not necessarily arbitrary) and politicized partisan trials (arbitrary trials against political opponents). The monograph, thus, adopts a broad definition of a political trial, which includes all trials that are related to politicians and political matters such as elections, regime change, activities of parties and other political organizations. The focus lies on a separate group of partisan trials that are politicized (i.e. politically motivated) and which are used by governments to restrain political opposition and dissent.
Primarily aimed at legal practitioners such as human rights lawyers, prosecutors, and judges, as well as postgraduates, researchers, teaching assistants and university law professors, readers can gain from the book information that is useful in assessing the interdisciplinary phenomenon of politically motivated criminal justice in transitional and authoritarian post-Soviet republics. Additionally, the volume is indispensable to readers that are interested in Eastern European Studies, Transitional Justice, Law and Society, Slavic Studies, and Theory and History of State and Law.
Artem Galushko is a post-doctoral researcher at the Max Planck Institute for the Study of Religious and Ethnic Diversity in Germany.
Specific to this book:
Offers an analysis of politically motivated justice from a comparative legal perspective; existing research has been limited to individual cases and missed identifying common characteristics of political trials in the former communist bloc.
Reveals the subversive and anti-democratic character of communist unwritten practices of politicized justice, which could lead to democratic backsliding in Europe.
Demonstrates how the communist legacies of political persecutions influence law and politics in contemporary post-Soviet states.
Available for download

Front matter incl. introduction and table of contents