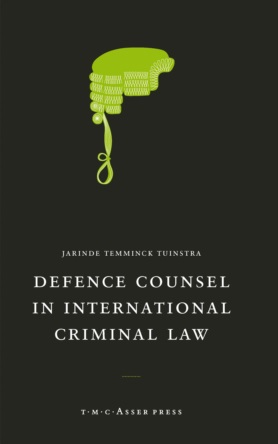 Defence Counsel in International Criminal Law
2009
Order
Do international criminal courts sufficiently enable defence counsel to conduct an effective defence? When the ad hoc Tribunals for the former Yugoslavia and Rwanda were set up in the mid-nineties to prosecute those responsible for serious violations of international humanitarian law, little thought had been given to how to organize the defence. The Statutes and Rules of Procedure and Evidence were rather concise on the right to legal assistance and the role of the defence in proceedings. Simply assigning one counsel per accused was at first deemed sufficient. However, as the first trials got under way, it became apparent that more assistance was necessary to safeguard fair proceedings.
This book is the first integral analysis which deals with the position of the defence in the international criminal courts. It pays particular attention to the sui generis character of international criminal proceedings and explores the critical areas that amount to an effective defence, including a proper legal aid system, access to competent legal assistance, equality of arms between the defence and the prosecution, sound standards of professional conduct and an effective right to self-representation.
The book is highly recommended to those working in (international) criminal law, such as practitioners, academics, policymakers and all others interested in this new and still developing area of international law.
Dr Jarinde Temminck Tuinstra carried out her research project on defence counsel in international criminal law at the University of Amsterdam and as a visiting researcher at Yale University after which she started working as a criminal defence attorney.
With a foreword by Otto Triffterer, School of Law, University of Salzburg
Available for download




Bookreview Journal of Int. Crim. Justice May 2012