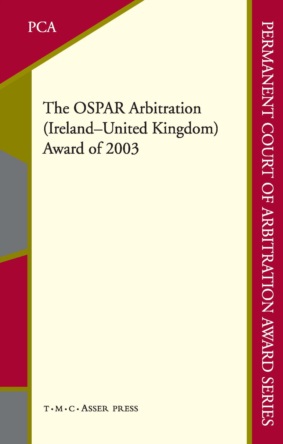 The OSPAR Arbitration (Ireland – United Kingdom) Award of 2003

Series: Permanent Court of Arbitration Award Series
2009
Order
The OSPAR Arbitration (2003) between Ireland and the United Kingdom was the first round in the MOX Plant case concerning their dispute over alleged potential radioactive pollution of the Irish Sea from a mixed oxide ("MOX") fuel plant at the Sellafield nuclear facility in England.
This volume contains the Final Award of the Arbitral Tribunal established pursuant to the dispute resolution procedures of the 1992 Convention for the Protection of the Marine Environment of the North-East Atlantic ("OSPAR Convention"), to decide the dispute concerning Ireland's request for access to information about the United Kingdom's decision to commission the MOX plant under Article 9 of the Convention. Ireland requested access to material deleted from the published versions of certain reports prepared as part of the approval process for the MOX plant. The United Kingdom declined to provide the information requested, arguing, among other things, that the information was properly withheld on commercial confidentiality grounds.
The Arbitral Tribunal addressed a relatively narrow legal issue concerning information exchange between States. In doing so, the Tribunal considered the nature and duty of the right to access to information, and the relationship of the OSPAR regime to other legal rules on access to information.
Daniel Bodansky, Woodruff Professor of International Law at the University of Georgia, provides a perceptive introduction on the contribution of the OSPAR Award to international law.
Available for download