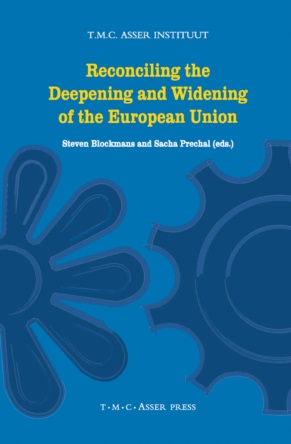 Reconciling the Deepening and Widening of the European Union

Series: Asser Institute Colloquium Series on European Law
2007
Order
Each enlargement of the European Communities/Union since 1973 has emphasized the strain that the 'widening' puts on the 'deepening' of the European integration process. The recent rounds of EU enlargement have stretched the operational capacity of the European Union to the maximum, triggering a debate on the final shape and borders of the Union and prompting the Member States to review the framework of primary law on the basis of the failed Constitutional Treaty.
This book explores legal options to reconcile the desire of EU Member States to deepen their cooperation in certain (new) policy fields with the commitments made towards today's candidate countries to widen the EU, once all membership conditions have been met. Seasoned academics shed light on the absorption capacity of the Union, the current state and future of the enlargement process, alternatives to full membership, new models of governance and cooperation in the EU, as well as the need to further integration in the sphere of the internal market and the fight against trans-border crime. This academic collection is a valuable contribution to the debate that the EU so much needs to reconcile its deepening and widening agendas.
Dr. Steven Blockmans is Senior Research Fellow in EU law and Deputy Head of Research at the T.M.C. Asser Instituut, The Hague, The Netherlands. Prof. Dr. Sacha Prechal is Professor of European Law at the Faculty of Law of Utrecht University and one of the directors of its Europa Instituut.
Available for download


Reconciling Summary of Contents