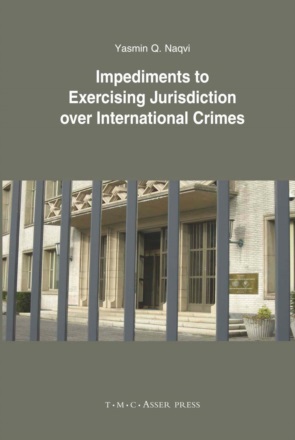 Impediments to Exercising Jurisdiction over International Crimes
2010
Order
This book challenges the growing assumptions about the exercise of jurisdiction over international crimes – that legal impediments are invalid in the face of the imperative to prosecute crimes of this gravity. Six principal impediments to the exercise of jurisdiction over international crimes are individually and comparatively analysed from the perspective of their historical origins, the policy contexts justifying them, and the legal arguments used by courts and commentators to either uphold the barrier to prosecution or to reject its application so that prosecution remains unhindered. These six impediments are: (1) Amnesties; (2) Pardons; Statutes of Limitation; (4) Immunities; (5) Ne bis in Idem (double jeopardy); and (6) Abuse of process.
The author proposes that an approach based upon an 'interests analysis', derived from policy oriented approaches to international law, provides a reasonable, coherent, and transparent means for courts to resolve the question of jurisdiction when faced with competing rules or principles such as those forming the basis of the research. Each chapter contains a theoretical evaluation of one of the mentioned impediments, as well as a comprehensive and up to date discussion of relevant case-law from both world-wide domestic and international jurisdictions.
This volume builds upon Yasmin Naqvi's expertise as a scholar and a lawyer working for the Chambers of the International Criminal Tribunal for the former Yugoslavia. She has also held positions at the International Committee of the Red Cross, the Graduate Institute of International and Development Studies in Geneva, and as a legal consultant on transitional justice and special procedures at the United Nations Office of the High Commissioner for Human Rights.
With a foreword by H.E. the Hon. Kevin Parker AC RFD QC, Judge, UNICTY.
Available for download