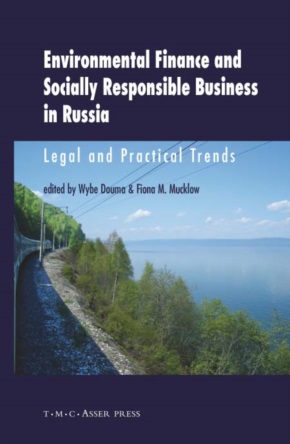 Environmental Finance and Socially Responsible Business in Russia - Legal and Practical Trends
2010
Order
This book focuses on the legal and practical aspects of environmental finance and socially responsible business practices in Russia since the 1990s. Related publications to date tend to give a rather one-sided and negative picture. The authors in this book, however, provide a more positive and balanced outlook. Over half of them are from Russia, and most of the non-Russian authors have worked there extensively. As experts in their respective fields, they discuss a myriad of separate, but interrelated issues from an economic, legal or practical perspective.
Topics include environmental law, pollution abatement, climate change and the Kyoto Protocol, renewable energy opportunities, NPAF, TACIS and EBRD projects, corporate social responsibility, environmental management systems, integration of EU environmental standards and adherence to the European Principles of Environmental Protection, environmental education and philanthropy.
Giving a valuable introductory insight into the progress of environmental and socially responsible business practices in Russia, this book is essential reading for investors, academics, practitioners and those interested in sustainable development in Russia.
Wybe Th. Douma, is a senior researcher in European Law and International Trade Law at the T.M.C. Asser Instituut. He worked in Russia on several projects, notably as senior legal expert for the first TACIS 'Harmonisation of environmental standards' project. Fiona M. Mucklow is a research associate at the T.M.C. Asser Instituut and an English solicitor with extensive expertise in finance law and international environmental law in Russia.
Book Launch:
On Monday, 6 December 2010, at UN House in Moscow, Russia, the United Nations Development Programme (UNDP) Russia hosted the launch of the recently published book "Environmental Finance and Socially Responsible Business in Russia: Legal and Practical Trends" (2010) edited by Fiona Mucklow and Wybe Douma.
In conjunction with the book launch, a round table took place, including presentations by Natalia Olofinskaya, UNDP Russia, Programme coordinator, Energy Efficiency & Environment; as well as by some contributors to the book: Dr. Yuriy L. Maksimenko,HSE Principal, Basic Element Company, Moscow (Russia), formerly Executive/General Director at the National Pollution Abatement Facility (NPAF) with comments about the NPAF; Dr. Alexey Kostin, former UNDP consultant, Executive Director at NGO "CSR - Russian Centre" provided an update on Corporate Social Responsibility (CSR) in Russia; and Michael Yulkin, CEO, CCGS (Climate Change Global Services LLC)/Director, Environmental Investment Center, Moscow, Russia, provided an informative update on climate change, Joint Implementation and the Kyoto Protocol in Russia.
The book was warmly welcomed and presentations were followed by a lively discussion amongst the editors, contributors to the book, presenters, delegates representing UNDP Russia, business, international and non-governmental organizations, academia, private sector and mass media.
Available for download


Douma Mucklow Summary of Contents