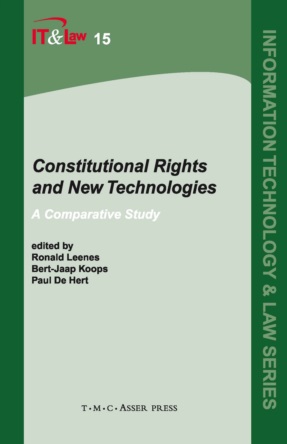 Constitutional Rights and New Technologies - A Comparative Study

Series: Information Technology and Law Series
March 2008
Order
New technologies affect the legal system, but do they and should they also affect constitutional rights? These are questions that every country has to address taking into account their constitutional system and legal tradition. This book surveys changes in constitutional rights and human-rights policy related to developments in ICT and new technologies in the US, Canada, France, Germany, Sweden, Belgium and the Netherlands.
The seven country reports provide in-depth accounts of changes to the constitutional system (such as a constitutional review and the influence of international law), case law, and (policy) developments with respect to freedom of expression, privacy, inviolability of the body, inviolability of the home, and freedom of communication.
The book is highly recommended to policy-makers, members of the judiciary, academics and practitioners, as it provides inspiration for diverging strategies to achieve continued protection for the widely-shared constitutional values of privacy and freedom of expression.
Ronald E. Leenes is Associate Professor of Law & Technology at the Tilburg Institute for Law, Technology, and Society (TILT), of Tilburg University, the Netherlands; Bert-Jaap Koops is Professor of Regulation & Technology at TILT and Paul De Hert is Associate Professor of Law & Technology at TILT and Professor of Law, Science, Technology & Society (LSTS) at the Free University of Brussels, Belgium.
This is Volume 15 in the Information Technology and Law (IT&Law) Series
Available for download