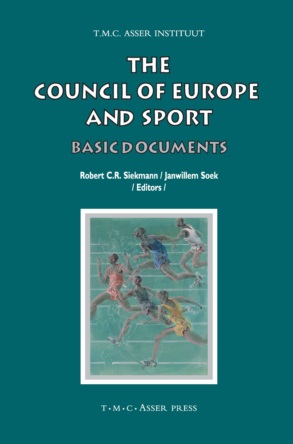 The Council of Europe and Sport - Basic Documents

Series: ASSER International Sports Law Series
2007
Order
The Council of Europe is unquestionably the body that has made the most substantial contribution to paving the way for a European sports model. The Council of Europe was the first international intergovernmental organisation to take initiatives to establish legal instruments, and to offer an institutional framework for the development of sport at European level. The first stage of the Council of Europe's work in this field was marked by the adoption of the Committee of Ministers' Resolution on Doping of Athletes (1967). The extensive work of the Council of Europe on sport is evident through its main instruments on sport, such as the European Sports Charter, the Code of Sports Ethics, the European Convention on Spectator Violence, and the Anti-Doping Convention. Sport co-operation within the Council of Europe is organised in partnership with national governmental and non-governmental bodies.
The Council of Europe and Sport: Basic Documents is the second volume in the Asser series of collections of documents on international sports law, containing material on the intergovernmental (inter-state) part of international sports law. The European Union and Sport: Legal and Policy Documents was the first volume devoted to the European Union. In previous other publications, non-governmental materials, i.e. statutes and constitutions, doping rules and regulations, arbitral and disciplinary rules and regulations of the international sports organisations were published.
The book provides an invaluable source of reference for governmental and sports officials, legal practitioners and the academic world. With the increasing public interest in the legal aspects of sports, this collection of documents is a timely and welcome contribution to enhancing the accessibility of basic texts on international sports law and policy.
With a Foreword by Dr Ralf-René Weingärtner, Director for Youth and Sport, Council of Europe, Strasbourg.
This book appears in the ASSER International Sports Law Series, under the editorship of Dr Robert Siekmann and Dr Janwillem Soek.
Available for download