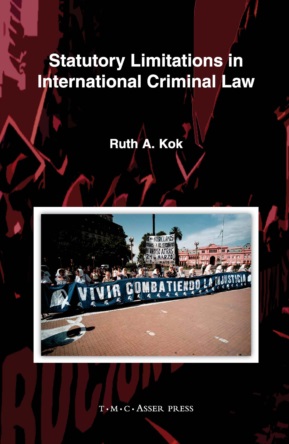 Statutory Limitations in International Criminal Law
2007
Order
This book answers the question whether the passage of time precludes the prosecution of international crimes committed in the past. It focuses on core international crimes (genocide, crimes against humanity and war crimes), torture and the forced disappearance of persons. The (non-)applicability of statutory limitations with respect to crimes committed during the Second World War, former communist regimes in Eastern Europe and military junta regimes in Latin America is examined extensively from a legal as well as historical perspective.
It contains an analysis of 192 UN Member States, the case law of more than 18 states, an extended overview of international instruments and documents, international case law, references to scholarly writings and activities of non-governmental organizations. An index, a table of cases and a list of international instruments and documents enhance the usability of this book.
Ruth A. Kok carried out her research at the University of Amsterdam, and works presently as a Legal Officer at the International Crimes Section of the District Court in The Hague.
Available for download