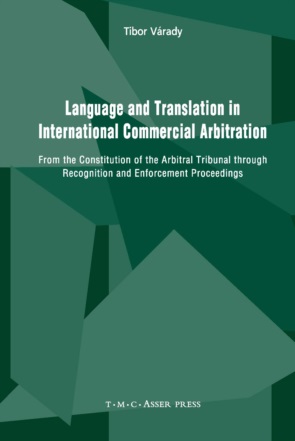 Language and Translation in International Commercial Arbitration - From the Constitution of the Arbitral Tribunal through Recognition and Enforcement Proceedings
2006
Order
The present book is the first book-length monograph addressing practically all language issues likely to arise throughout the arbitration process and post-arbitration proceedings.
International Commercial Arbitration is a transcultural venture and the need to bridge language differences is a part of the process. There are more and more cases in which procedural or alleged procedural deficiencies pertaining to language emerge as an issue with unforeseen and costly consequences.
The author presents a comprehensive survey of questions related to language and translation in (post-)arbitral proceedings. The issues are systematized and answers to the questions are suggested and analyzed, relying primarily on arbitration and court cases, international agreements, statutes and institutional rules. As such, it allows the reader to find answers to specific questions, and also offers a distinctive comparative survey. The book provides guidance to both arbitrators and parties to arbitration as well as to judges and other participants in post-award proceedings.
Tibor Varady is a Professor of Law at the Central European University, Budapest, and Emory University School of Law, Atlanta. He has been an arbitrator in no less than 200 cases. Professor Várady has been on the list of arbitrators of eight arbitral institutions in Europe, Africa and Asia.
With a foreword by Judge Thomas Buergenthal, International Court of Justice.
Available for download